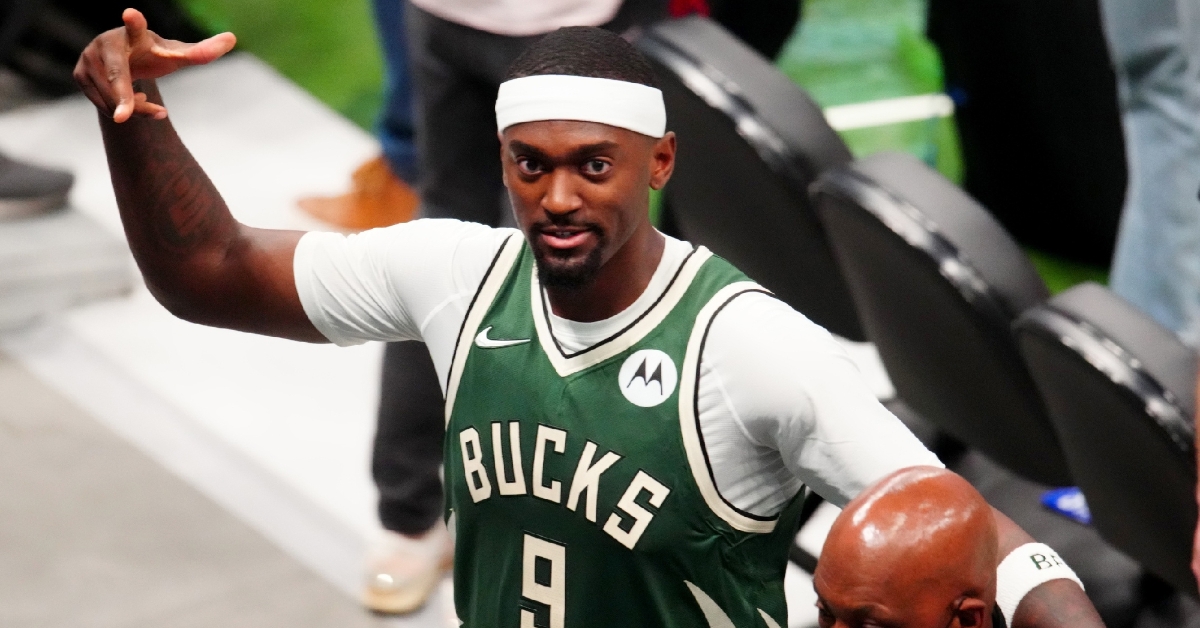 | | |
| --- | --- |
| Should Bulls reunite with Bobby Portis? | |
---
| | | |
| --- | --- | --- |
| Saturday, July 17, 2021, 8:43 AM | | |
The one that got away. That sentence could be said about Bobby Portis, who is flourishing in Milwaukee during their Finals run. Once a Bull, Portis was drafted in the first round out of Arkansas and played significant minutes both off the bench and as a starter in Chicago. Although not a star in Chicago, Portis was loved by the fans and his teammates except for Nikola Mirotic, who got into it with Portis during an early-season practice and broke Portis's jaw.
Since arriving in the league in 2015, the 26-year-old Portis has been a model of consistency while displaying his love for the game using pure heart and hustle to win over fans. In six years, Portis has touched the playoffs just twice, with the first time coming during his second season with the Bulls, and his most recent appearance is still going on. During his postseason run with the Bulls, Portis and company took the top-seeded Celtics to six games where Portis averaged 6.7 PPG and 6.0 RPG in just over 28 minutes a contest.
Now four years and three teams later, Portis finds himself back in the postseason and is currently playing for an NBA title with the Bucks. While his overall numbers are like the postseason with the Bulls, his presence on the court alongside Giannis is irreplaceable as the Bucks are on the verge of their first NBA title in over 50 years.
In-game four of the finals, Portis recorded 11 points to go along with eight rebounds after picking up 22 points and eight boards the game before. He may never be an elite scorer, but Portis will put up similar numbers to that of Thaddeus Young, who has had a 15-year career because of that. Not only is the consistency of Portis hard to come by, so is what else he brings to the table.
He has an endless supply of energy, plays as physical as they come, and he lays his heart on the floor and has done that for the past six years. He was the perfect role player in Chicago when they drafted, and guess what, he still would fit well with this team. After averaging just 6.9 PPG his first two seasons, Portis averaged 13.5 PPG his final two years in Chicago, including 14.1 in 2018, before being dealt to Washington for Otto Porter Jr. Once in Washington, those great numbers continued as he finished that season with a career-high 14.3 PPG.
Since then, Portis hasn't been as good offensively, averaging 10.8 PPG, but his consistency and energy make him a must for many teams. Portis plays like someone who tries to make the big play while wearing their emotions on his sleeve. However, that is far from the truth as he understands this game and his role as a player better than anyone ever thought.
His journey with the Bulls was both a dream and a struggle that ended abruptly. If you remember, the Bulls offered Portis a four-year extension in the 40-50 million range before the 2018 season. He turned down that deal and then got into that fight a short while after. That was the tipping point for an exit that many people felt needed to happen.
However, fans don't know half of it, and the now much more mature Portis gave his take on things, and it may surprise many fans. To sum up, what he said in an interview with The Athletic, Portis not only regrets not taking that extension, but regrets not committing to Chicago long-term. A big reason for that could be that following his decision to decline that contract, Portis signed a one-year 15-million-dollar deal with the Knicks, followed by his current two-year six-million-dollar deal in Milwaukee.
Portis bet on himself and thought he was worth more money. He knows he left a lot of money on the table and felt that his role with the team wasn't what he wanted it to be and needed a fresh start elsewhere. Unfortunately for him, that didn't work, and he now knows that sometimes the best you will have is the current situation in place.
The more you listen to his interview, the more you begin to wonder if he and the Bulls are considering a reunion of some sort following this season. He took a pay cut to join the Bucks, but given his play in the postseason, it seems highly unlikely he will accept a three-million-dollar option, thus hitting the free-agent market.
With the future of Lauri Markkanen in the air, the Bulls may have an opening at the PF position and one that Portis could fill perfectly as a starter for the first time in his career. If Portis means what he said about the decision to decline the deal, how could he not think about coming back to Chicago? He may not get a deal like what the Bulls game him before, but at three or four years in the 25-30 million range, it would be hard to pass up.
Adding Portis back to the fold would not only give the Bulls a player with playoff experience, but someone who would compliment Nikola Vucevic very well in the frontcourt. He loved the fans and the city of Chicago, and I am sure the fans would welcome him back with open arms.