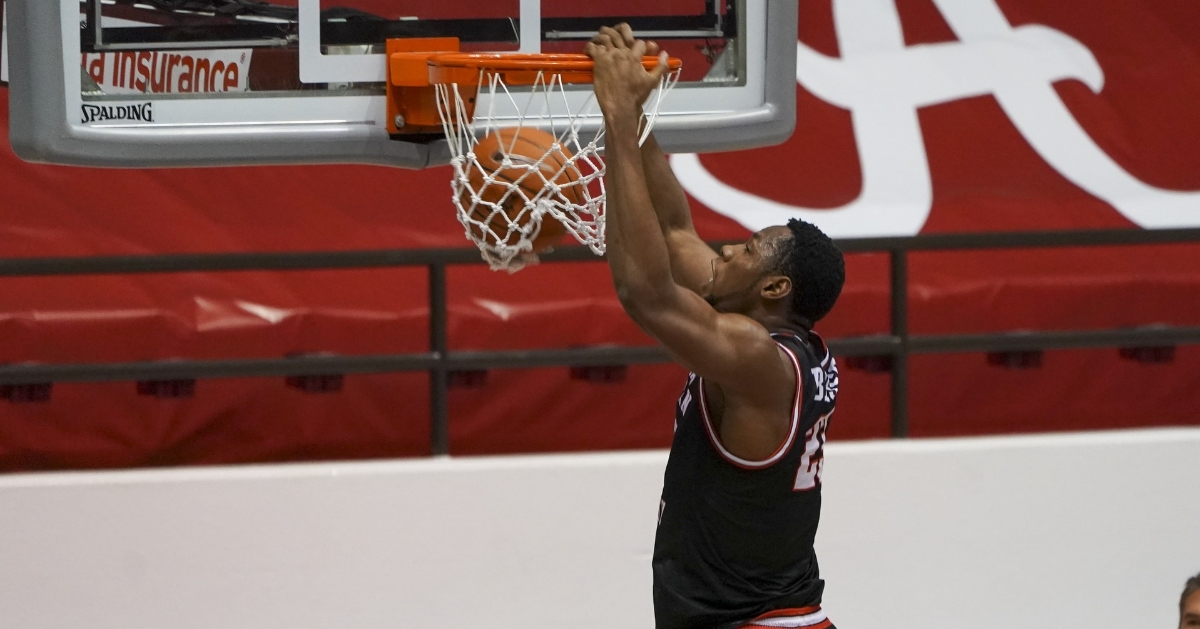 | | |
| --- | --- |
| Bulls could go after talented center at pick No. 38 | |
---
| | | |
| --- | --- | --- |
| Sunday, July 25, 2021, 11:19 AM | | |
With the NBA draft one week away, it is time for the Bulls to start focusing on what their plans will become draft night. As they are one of a few teams without a first-round pick, Chicago needs to hit on their second-round pick to prevent a wasted night of selections. There could be a way around that, including Chicago trading into the first round, but fans should be ready to select someone in the second round until that happens.
Even before the draft is underway, Bulls fans received a bit of positive news. Last year's second-round pick Marko Simonovic appears ready to sign with Chicago and move stateside. Similar to a Lauri Markkanen type of player just without the shooting stroke, Simonovic will give the Bulls some much-needed frontcourt depth as they look to replenish some of the pieces lost.
Simonovic is a project with tons of skills, but skills that may not translate well at the NBA level early on. If that is the case, the Bulls could look to draft a frontcourt depth piece in the second round, and Western Kentucky Center Charles Bassey is an option. The last time the Bulls went big in round two was Daniel Gafford, who has since been traded to Washington.
Gafford showed plenty of positive signs as a player, but many felt he didn't reach the level everyone expected him to reach. With Markkanen, Thaddeus Young, and Daniel Theis all having their futures up in the air, the Bulls need to consider taking a big, and Bassey could be had. Coming off a serious leg injury that limited him to just 10 games in 2019, Bassey had a fantastic junior season which put him back on the draft radar.
Not only did the Hilltopper big man averaged 17.6 PPG, but he brought down 11.6 RPG to go with 3.1 BPG. He did all this while shooting 59% from the floor. The 3.1 blocks he averaged were top five in the nation as Bassey proved he could do it all on both ends of the floor. I know Gafford left the Bulls wanting more, but if they are looking for someone to replace him with while offering a similar skillset, then Bassey fits that profile perfectly.
Not only is he a defensive presence with a 7-3 wingspan, but he may have a leg up on Gafford in terms of offensive versatility. Bassey is a lob threat that you would expect, but he is also a big who can run the floor while knocking down an occasional three-point jumper. He shot 18-59 from beyond the arc as a junior which translates to around 30%.
Bassey was a standout at Western Kentucky, but keep in mind they don't play the strongest competition throughout the season. That brings his overall skillset into question about whether he can use his offensive versatility on the big stage. Given his size, and the ability to finish around the basket, most mock drafts have him going in the mid-30 range, which is right where the Bulls are sitting.
Some mock drafts have him sitting in the '40s, given his overall lack of a face-up jumper. Not only that, playing at a mid-major school, Bassey was able to get by with limited post moves, so he needs to expand on that to reach the next level. He also needs to improve his passing ability while becoming more disciplined on defense.
Overall, Bassey is an athletic, high motor big man who could be a solid rim protector at the NBA level. He is also a highly efficient inside scorer, which will translate well to give him extended minutes on the floor. Offensively, he draws a ton of Clint Capela comparison while playing more like Bismark Biyombo on defense. This is a high-value pick for the Bulls should this be the direction they choose.