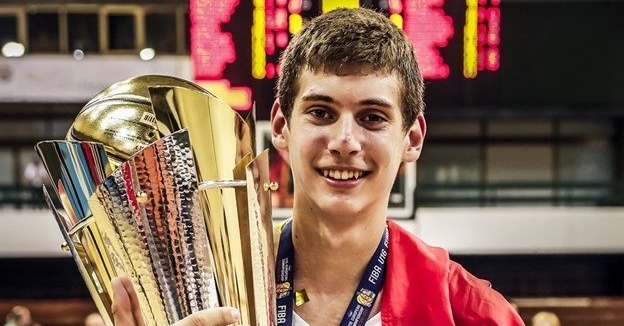 | | |
| --- | --- |
| What should Bulls do with pick No. 38 overall? | |
---
| | | |
| --- | --- | --- |
| Thursday, June 24, 2021, 10:48 AM | | |
While the Bulls may have lost their first-round pick to the Orlando Magic on Tuesday, that doesn't mean all is lost when it comes to the NBA draft. Not only do the Bulls still own the 38th pick, but Arturas Karnisovas could elect to trade back into the first round depending on if he sees a player he likes.
Should Chicago stay at pick 38, there are a lot of talented players in this draft, and plenty of them could fall to them at that position. Karnisovas also has a long history of finding second-round steals, including league MVP Nikola Jokic. If that trend continues, Chicago may find a first-round talent in the second round, which could prove to be equally as valuable.
One of the names to watch when the Bulls are on the clock at No. 38 would be that of 18-year-old PF Roko Prkacin of Croatia. If I am being honest, I don't know a lot about the European basketball circuit, and up until draft night, when they discuss these players, I may never know much. However, one person who knows a lot is Karnisovas, so I trust his judgment when it comes to European stars overseas.
Now getting back to Prkacin. This was a name that wasn't talked about too much last season, but now he is having his name pop up across mock drafts. At just 18 years old, not only is he young, but he has the raw talent to build around as he has yet to come into his own as a player. One thing he does have going for him is that he has been balling out overseas with much older players and has proven that he plays years older than his actual age.
As a member of KK Cibona in Croatia, Prkacin seems to fit the mold of the classic AKME two-way player that can play both offensively and defensively. Not only is he a physical dude who has no problems using his size to his advantage, but he has solid basketball fundamentals across the board while showcasing the urge to dunk when he has the ball inside.
Although he hasn't put up the greatest of numbers in his brief time with his current team, NBA Mock drafts have him listed as the 29th best prospect, so there is a lot to love about his game. If I were to guess, that love comes from the way he performed on the U-16 and U-17 national teams during the 2018 season. Over seven tournament games on the U-16 squad, Prkacin averaged 18.6 PPG to go with 10.9 RPG, 3.7 APG, and 2.0 BPG. He also earned tournament MVP during that time.
Moving to the U-17 national team, you saw his numbers decline slightly, but he was still playing at a high level. Playing in the FIBA tournament, Prkacin averaged 12.3 PPG to go with 10.9 RPG and 1.9 BPG. In other words, the guy has been a walking double-double since landing on the professional circuit, and that is something the Bulls would love to have.
At 6-9, Prkacin comes with a 7-0 wingspan, making him an ideal fit for the PF position. With the future of both Lauri Markkanen and Thaddeus Young unclear, unless Marko Simonovic is ready to come stateside next season, the Bulls will need some PF help. In terms of international power forwards, Prkacin is ranked the fourth-best prospect for that position but still grades as a first-round talent.
He is a smooth and talented combo forward with an advanced skill set across the board. While he likes to play close to the rim, he does have the shooting ability to step behind the three-point line and stretch the floor. He is also very skilled with the ball and can make plenty of plays in the open floor. Many people have compared him to TJ Warren with his court vision while also being a more creative version of Juancho Hernangomez.