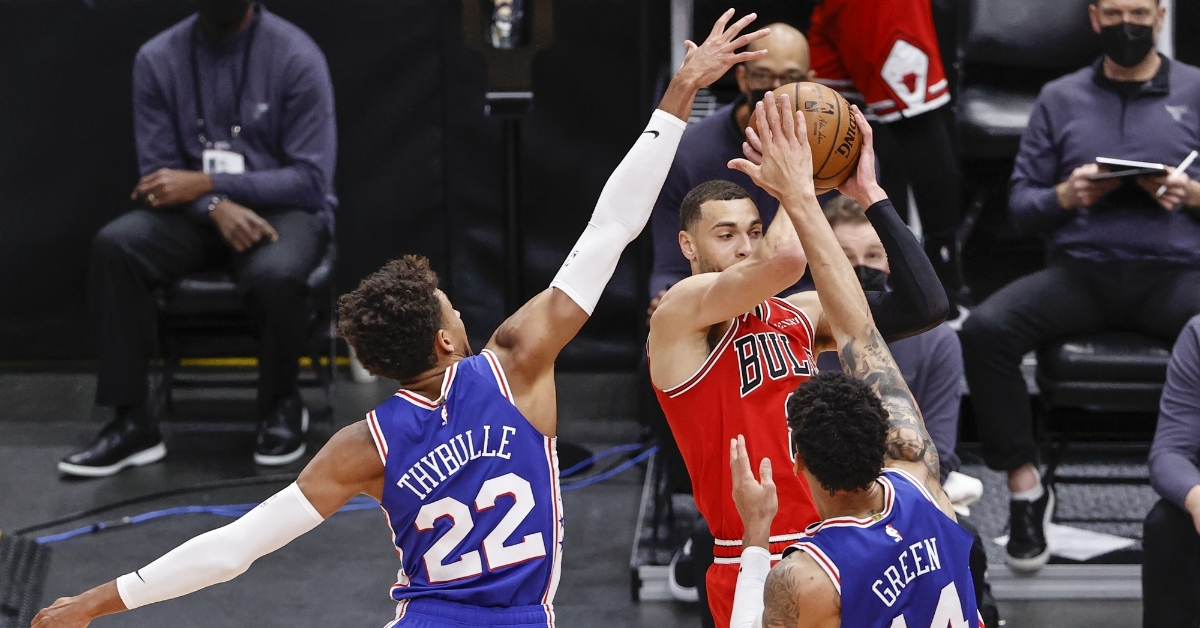 | | |
| --- | --- |
| Three takeaways from Bulls loss to Sixers | |
---
| | | |
| --- | --- | --- |
| Friday, March 12, 2021, 11:54 AM | | |
The Chicago Bulls returned to the floor Thursday night after having a week off from action for All-Star festivities. Hoping to start the second half off with a bang, Chicago had an opportunity to make a statement as they took on the East-leading Philadelphia Sixers. Not only that, but Philadelphia was also down both Ben Simmons and Joel Embied, so if Chicago were going to win, now would be the time.
With Otto Porter Jr and Lauri Markkanen returning to the lineup, Chicago was at full strength for the first time in months. Rust was undoubtedly not an issue for Markkanen, as he led the team with 23 points and shot an impressive 7-7 from beyond the arc. On the other hand, Porter struggled all night long, going just 1-6 from the field to finish with three points.
Rust was undoubtedly the key for Chicago in this one, as they never seemed to find their groove as a team. Even All-Star Zach Lavine struggled to shoot the ball going just 7-16 from the field and 1-5 from deep to finish with 19 points. This was the first time in forever he was held to under 20 points. Even without the likes of Embied and Simmons, Philadelphia showed why they are the best in the East, using 24 points from Tobias Harris to claim a dominating 127-105 win.
While some of the Bulls regular stars were struggling, guys like Wendell Carter Jr and Coby White were not, at least early on, as they helped the Bulls grab the early lead. Once Danny Green and Seth Curry started knocking down some outside shots, things began to open for the Sixers as they took what was a three-point deficit at one time and pushed it to a 30-23 lead after one.
Despite the Bulls struggling on defense in the first half, they did get things rolling offensively in the second quarter scoring 34 points. With Markkanen stretching the floor from deep, it allowed guys like Patrick Williams, Thaddeus Young and Daniel Gafford to get inside as the Bulls clawed back within three. Much like many games this season, Philadelphia had the answers for Chicago with Dwight Howard getting some looks in the paint and Harris taking over to keep Philadelphia in front 64-57 at the half.
In the second half, the Sixers flexed their muscles as their overall depth was on full display. Guys like Matisse Thybulle, Tony Bradley, and Shake Milton were all starting to get involved as Philadelphia stretched their lead to 97-85 after three. Desperate for some late-game offense, Chicago was hoping Tomas Satoransky, Garrett Temple, and the rest of the Bulls bench could give them a lift as it was a tough night shooting for everyone.
With every passing minute, more players were getting involved as Furkan Korkmaz was getting open looks. That put the pressure solely on Lavine and the rest of the Bulls starters. Outside of Markkanen, they were not up to the task. Despite Denzel Valentine and several other players getting involved late, Chicago dug themselves a hole they couldn't climb out of, falling 127-105.
The Bulls return to the court Friday and bring their 16-19 record to take on the Miami Heat.
Feels good to be healthy: Even though the Bulls have been battling for a playoff spot all season, many fans wonder how good this team can be. Since the start of the season, Chicago has been missing players, and they haven't been healthy all season.
With both Porter and Markkanen returning to the lineup on Thursday, Chicago can finally say they are fully healthy for the first time this season. It may take a few games for both to find their rhythm again, but both will add much-needed depth and offense to a team that scores a ton of points. It will be interesting to see how Donovan uses them in the next few weeks as he looks to keep balance with both units.
Rust clearly a factor: No one will call the Bulls a consistent team, but they have been consistently competitive this season. After putting together a couple of solid performances heading into the All-Star break, Chicago was without a game for a week, and it showed on Thursday.
Not only did the team seem a bit sluggish, but they were very rusty. That tends to happen when you don't have a game for a while. Add in a couple of players who haven't been around for months, and that is what you get. There have been times where Chicago has been blown out this season, but this was the first time where they just seemed lazy and lethargic all game long.
Bulls are going for it this season: This doesn't mean the Bulls are going for the title but instead focusing on the postseason. After expecting this team to be sellers at the deadline, Arturas Karnisovas has now said they will no longer be sellers. Instead, look for Chicago to either stand pat or add some minor pieces to the roster.
That right there is an indication that not only are the Bulls ahead of schedule with Donovan, but they feel they can make the postseason this year, so there is no need for drastic changes. The front office has a plan for this team, and so far, that plan has worked out better than most expected. Chicago could always use some more weapons, so let's see what the team has in mind in the coming weeks.

Tags: Bulls Basketball
,
Lauri Markkanen
,
Zach Lavine
,
Wendell Carter
,
Coby White
,
Patrick Williams
,
Thaddeus Young
,
Daniel Gafford
,
Tomas Satoransky
,
Garrett Temple
,
Denzel Valentine