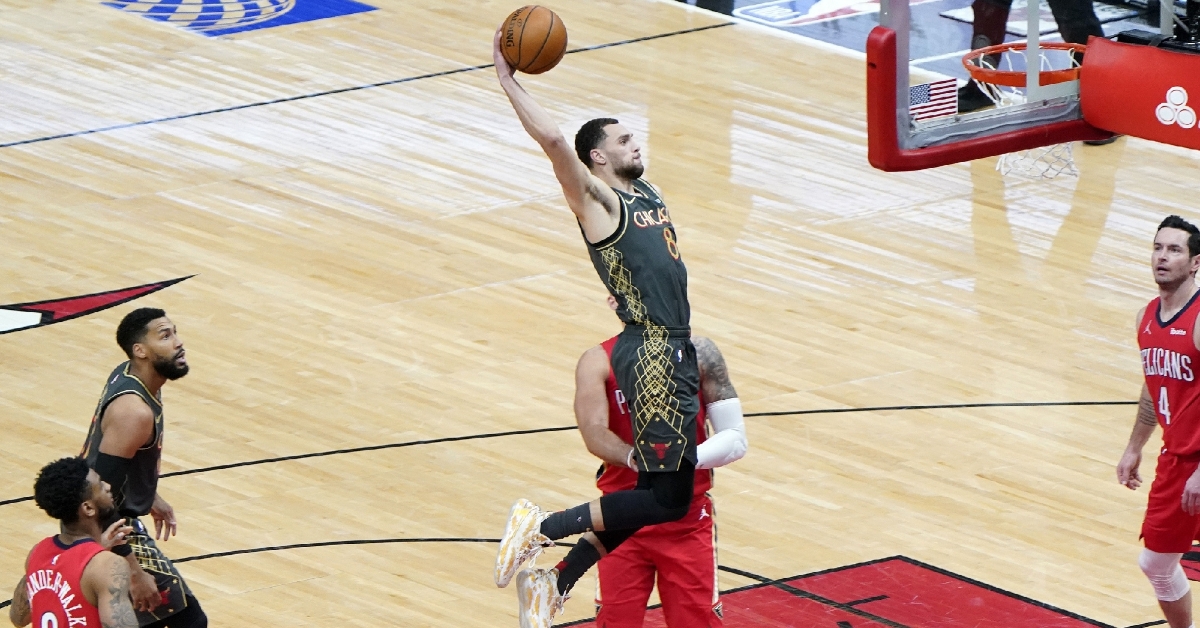 | | |
| --- | --- |
| 2021 Season Projections: Bulls Shooting Guards | |
---
| | | |
| --- | --- | --- |
| Saturday, September 25, 2021, 9:51 AM | | |
We recently opened our Bulls season projection series by discussing the PG situation. Today we shift to the shooting guard spot as this is the one position on the team that shouldn't come as a surprise as the Bulls have a budding superstar locking down that spot.
After that, Chicago has a potential sixth-man of the year candidate backing him up as well as plenty of other players who can chip in. Most of those players will land in the G-League to open the season, but all will be counted on at some point in 2021-22.
ZACH LAVINE
Ever since arriving in Chicago almost four years ago, Zach LaVine has quietly gone from being just an athletic dunker to being one of the best players in the NBA. Not only does he still have that athletic ability that lands him with countless top 10 worth dunks, but he has continued to improve as a shooter in every season, making him lethal from all areas of the floor.
Since coming to Chicago, Lavine has never averaged fewer than 20 PPG at any point, with a career-high 26.7 PPG last season. In his time with the Bulls, LaVine has seen his scoring average increase each year and has averaged 24.9 PPG as a member of the Red and Black. With so many additions coming aboard this offseason, there is an excellent chance that LaVine will make the all-star team again this season, even if the numbers aren't what you would expect. That doesn't mean he isn't going to have a great season.
LaVine has been the one consistent player on this team the last few years who the Bulls count on whenever they need a point. Fans have seen him take over games himself, and now it becomes can he take that next step and lead this team to the playoffs. Should he do that, look for a lucrative contract extension to follow suit. If they fail to reach the playoffs, there will be many questions surrounding LaVine and his future in Chicago.
Prediction: 74 games, 25.5 PPG, 4.8 RPG, 4.3 APG
I expect LaVine to play in almost every game if healthy, but he will get some days off for load management. Still, look for him to have another impressive season even if the scoring goes down from a season ago. A big reason for that will be the addition of DeMar DeRozan and the return of Nikola Vucevic, as the Bulls have way more scoring options than before.
Still, LaVine will be this team's offensive leader and will be the guy they trust most down the stretch. We haven't seen numbers like this in Chicago since Derrick Rose's MVP season, but LaVine is also playing at a level not seen since the MJ days in Chicago. He is quickly becoming the face of the franchise and one the Bulls need to hang onto beyond this season.
One of the more interesting pieces surrounding the Bulls right now is third-year player Coby White. White has shown the ability to be a great scorer through two seasons despite not having a natural position on the floor. We have seen him start at SG for LaVine at times and start at the PG position, where he seemed to struggle with decision-making.
White has also been an extremely valuable asset off the bench giving the Bulls a legitimate scoring punch off the bench. The problem that will continue to plague White is where his natural fit is. If he is a PG, there is no way he starts over Lonzo Ball, and if he is a SG, he won't start over LaVine. That means unless he is traded, White will be a bench player who very easily could be the sixth-man of the year.
Looking back on his last two seasons, White has averaged 19.1 PPG as a starter compared to 14.2 PPG off the bench. Those statistics are great, but White does a better job as a starter than off the bench. Even if he doesn't start this season, look for him to see significant minutes, and the scoring shouldn't suffer that much. He did have his name brought up in trade discussions last season, so that will be something to watch again this year.
Prediction: 40 games, 15.9 PPG, 3.7 RPG, 2.4 APG
White is coming off offseason shoulder surgery, so he will miss some time to start the season. How much time remains to be seen, but the Bulls expect him to make a full recovery and be ready to go by January or early February at the latest. Once he is inserted into the lineup, look for Billy Donovan to bring him along slowly to make sure he is fully ready to go.
Once that time comes, Chicago will have a great scoring piece coming off the bench who can start if other players are hurt or need breaks. White is still working on his consistency as a shooter, but he has one of the better outside shooting touches on this team when he is on. Now comes working on the rest of his game as he looks to turn the corner in year three.
While we won't get into too much detail about the rest of the SG pieces, the Bulls will have plenty to choose from for bench depth. Javonte Green showed flashes of excitement last season and has been brought back for this season. He is the favorite to land one of the bench spots, but keep an eye out for others. Sharpshooters Ethan Thompson who put on a display during the Summer League, and Matt Thomas will have opportunities to make this team given their outside shooting ability. That is something the Bulls have lacked for a while, so adding that element to their team is huge.