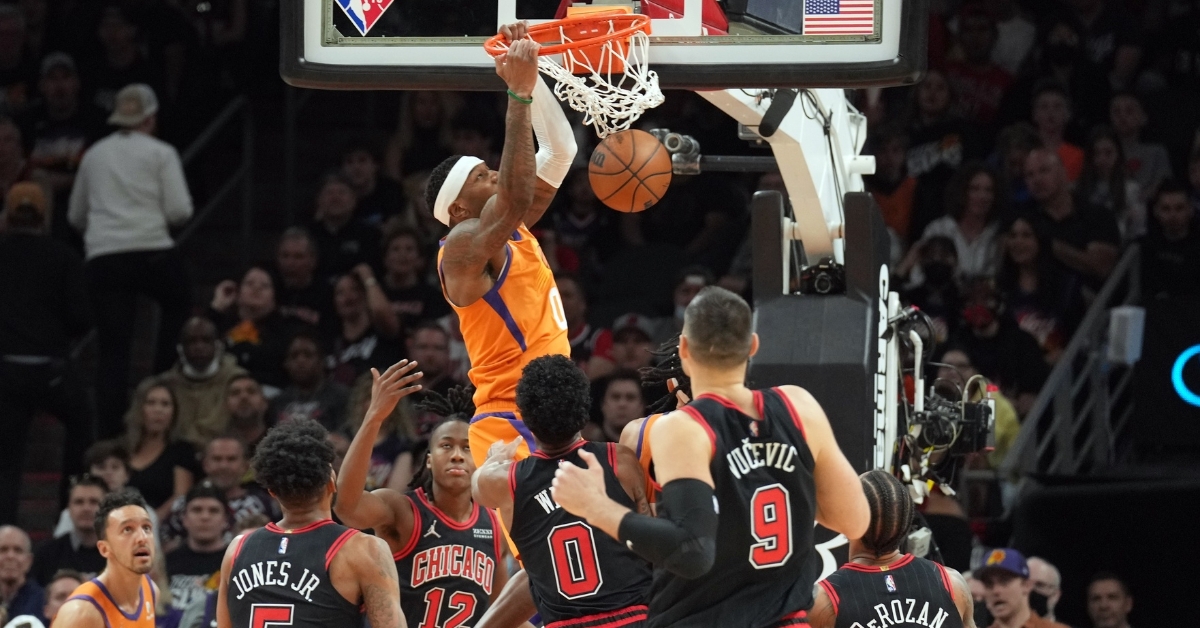 ---
| | | |
| --- | --- | --- |
| Saturday, March 19, 2022, 11:31 AM | | |
PHOENIX – Things continue to be rough for the Chicago Bulls (41-29) of late as they continue to fall in the Eastern Conference standings. Struggling to pick up wins and in the middle of a west coast road trip that has seen them drop the first two games, things would not get any easier on Friday. Looking to avoid falling to 0-3 on this current trip, the Bulls traveled to Phoenix to take on the NBA's best Phoneix Suns (57-14).
In their first meeting earlier this season, the Bulls battled the Suns right down to the final whistle. In that game, the Bulls were trailing by nearly 20 points only to see themselves start to rally late. They ultimately fell 127-124 and proved they could play with the best in the league. Playing with the best is one thing, but beating the best is an entirely different ball game as this team has yet to record a win against the top three teams in either conference this season.
That doesn't bode well come playoff time, and it could signal an early exit once they get there. Looking for that first win against a top-three team, the Bulls came out strong and managed to hang right with the Suns throughout the first quarter. Once the second quarter began, it was all Suns as they not only outscored the Bulls by 10 points in the second quarter, but by 10 points in the third quarter also to blow the game wide open. In fact, the Bulls were outscored in every quarter of this game as the Suns made quick work of Chicago 129-102, keeping them winless on this trip.
Even without Chris Paul, this Suns team is legit, and they are extremely tough to beat. When you go the entire game without a 20-point scorer, you make things that much harder on yourselves. That is what the Bulls had to go through last night, as not one single player dropped 20 points in the loss. DeMar DeRozan came close as he led the team with 19 points. His 6-14 shooting was efficient enough, but this was one of his worst outings in a long time.
Apart from him, the Bulls struggled to get much of anything production-wise, with Nikola Vucevic finishing second on the team with 16 points to go with seven boards. With most of the starting lineup struggling to get things done, the Bulls bench hoped to step up as Coby White did his part with 14 points. Tristan Thompson added 11 points to put together a strong showing of his own, with Matt Thomas and Alex Caruso each finishing with eight.
Ironically, this was one of the first times all season when you could say the bench was more effective than the starting lineup, as Zach Lavine was the final double-digit scorer with just 12 points. That lack of overall scoring made things hard for this team, and the results showed on the court. For the Suns, scoring was not an issue, and that all started with Devin Booker.
With Paul out of the lineup, Booker has stepped up his game and proven that he is a superstar. His 28 points led all scorers as he set the tone from the opening tip. Joining Booker in having a strong game was Deandre Ayton, who dropped 20 points to go with 14 rebounds. He may have been the last of the 20-point scorers for Phoenix, but all five starters landed with double figures and seven players total. That makes the team nearly impossible to beat on a given night.
While Booker and Ayton did the most damage, Cameron Payne continues to deliver in place of Paul. Not the same type of scorer Paul is, Payne has played well and finished with 15 points while adding seven assists. The Suns bench may not have been all that productive, but Landry Shamet (14) and Javale McGee (12) provided most of the punch for that second unit. McGee is playing some of the best basketball of his career, while Shamet has taken this reserve role by storm and is playing at a high level.
All that mixed together is why the Suns are where they are in the standings and why everyone is chasing them. This was another impressive win against a good, but a struggling team and the Bulls have to do some serious soul searching at this point. Not only do the Bulls keep falling in the standings where they are sitting as the fifth seed, but they are closer to the play-in round over the top seed. Considering where they were a few weeks ago, this is turning into a catastrophic meltdown, and the Bulls need to turn it around quickly.