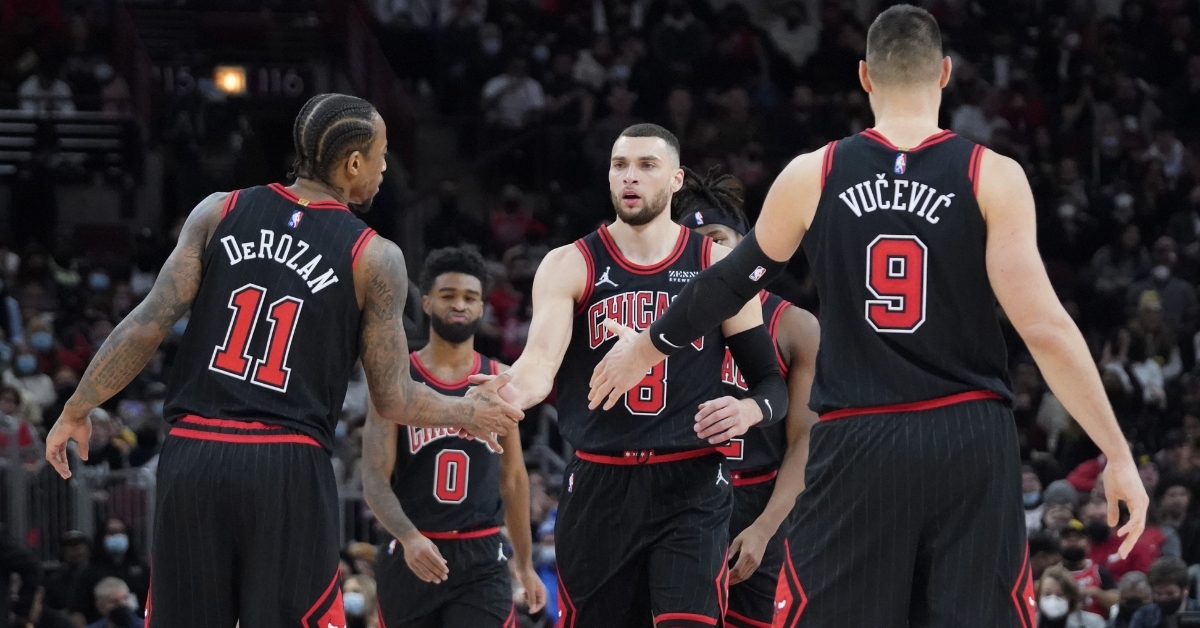 | | |
| --- | --- |
| Bulls defeat Pacers for their best record in five years | |
---
| | | |
| --- | --- | --- |
| Monday, December 27, 2021, 10:31 AM | | |
CHICAGO – Things haven't been going smoothly lately for the Chicago Bulls (20-10), but that hasn't stopped them. After COVID ran wild throughout the organization, the NBA postponed several contests for them to get back to health. Once they returned, the league announced that all games from Wednesday through Saturday would be postponed as several teams were dealing with COVID issues.
That means that Chicago is not only well-rested, but should be battle-tested this season as they have played just three games in their last 15 days. Their most recent game came against the Indiana Pacers (14-20), who are in the middle of a real rough patch at the moment. Despite not playing many games in recent weeks, all the Bulls have done is win as they have gone a perfect 3-0 since returning from their COVID shutdown. That includes an excellent 113-105 win against Indiana at home.
Last night was a prime indication of how good this team really can be as Zach LaVine and most of the COVID stricken players returned to the lineup for the first time in two weeks. Sure, guys like Lonzo Ball, Alex Caruso, Derrick Jones Jr, and Billy Donovan were out as they recently went into the health and safety protocols, but having four players out is vastly different than 10.
In LaVine's absence, the Bulls still found ways to win as they rode the hot hand of MVP candidate DeMar DeRozan. As good as he has been, the Bulls needed LaVine back, and he returned with a bang dropping a game-high 32 points in his first game back in two weeks. That performance took some pressure off DeRozan, who had a quiet 24 point night, while Nikola Vucevic dominated with a 16 point 15 rebound double-double. Those three continue to shoulder the load for this team as it has worked well.
Javonte Green stepped up big last night, dropping his first double-digit output in over a month with 13 points, while Coby White filled in admirably for Ball with eight points. Bench scoring has been an issue for Chicago this season, and with Caruso and others out for the next few weeks, that production needs to be better. Although not incredible, Chicago did get 20 points off their bench, with Ayo Dosunmu leading the way with six points.
That type of production was the biggest key to the Bullshot start as they led by as much as 18 in the game. Indiana wouldn't go away quietly as the Pacers continued to battle their way back despite that lead. Caris LeVert had a phenomenal game, especially in the second half, as he led Indiana scorers with 27 points and added nine assists. He came through with several clutch shots during the fourth quarter to help keep things tight late.
LeVert wasn't alone in having a solid game as all five of the Pacers starters landed in double figures. Myles Turner added 19 points, while Chris Duarte finished with 16 points before leaving with a late game injury after colliding with Vucevic. Domantas Sabonis (14) and Justin Holiday (10) capped off the offensive stars for the Pacers as they did a great job keeping things close only to come up short in the end.
Will this nightmare ever be over?
The NBA should be thanking the Bulls for their COVID outbreak as they are the reason why COVID roster restrictions were changed. The Bulls are not happy about it because not only have they had minimal games over the last few weeks, it is going to cause a lot of scheduling issues later in the season so they can make up those games.
Not only that, but when you are missing 10 players, it is hard to gel as a unit. Fortunately, this team did an excellent job treading water even if they struggled to win games consistently. Over the last week, you have seen nearly every player return from the COVID list, which is a great thing when you think about it. However, just like all virus outbreaks, it was only a matter of time until more people landed on it.
Donovan was the first of the new names added to the list, followed by Tony Bradley Jr, Alfonzo McKinnie, and Lonzo Ball. That leaves Alex Caruso and Patrick Williams as the lone players who haven't entered the COVID protocols yet, so you have to think it is only a matter of time until that happens.
The good news is that this team is much healthier now than they were three weeks ago. The bad news is that this nightmare is far from over, and teams need to continue adjusting on the fly. The Bulls have done a great job of that so far, which is why they have continued to play winning basketball.
A long time coming
It has been a while, five years to be exact, since the Bulls were 10 games above .500. With their win on Sunday, Chicago is 20-10 and 10 games over for the first time since December of 2016. It was in that season when Fred Hoiberg as head coach and the team got off to a 22-12 start. Hoiberg had a lineup of Derrick Rose, Taj Gibson, Pau Gasol, Jimmy Butler, and Nikola Mirotic.
Not only did that team limp to the finish line finishing the year 41-41 and making the postseason, but none of those players remain with the organization, which shows you how fast things can change. When it comes to this Bulls team, not only are they a more talented bunch than that group, but they have a great head coach that won't let them get in a prolonged slump.
This is the team's high watermark over the last five years, but it is just the beginning. There are plenty of bright days ahead for this team, and it all starts with getting fully healthy and going for the kill.
Chris Fleming audition
With Donovan expected to miss five games in the COVID protocols, many people were wondering who the fill-in head coach would be. At first guess, Maurice Cheeks was my thought, given how long he has worked with Donovan and the fact that he has multiple seasons as a head coach under his belt. That was not the case as Chris Fleming made his NBA coaching debut last night for the Bulls.
The lone holdover from the Jim Boylen staff, Fleming has long been viewed as a possible NBA head coach but hasn't had the opportunity yet. Known for his success in the German league and the German national head coach, Fleming has said it is an honor to coach this Bulls team, even on a limited basis.
Regardless of how long it is, he started his NBA coaching career with a win, which is never easy. Now that the victory is out of the way, Fleming can use the next two weeks to prove to the rest of the league is good enough to be a head coach. While that would be a crushing blow to lose him, he deserves the opportunity, and hopefully, the next few weeks will give him that opportunity in the future.