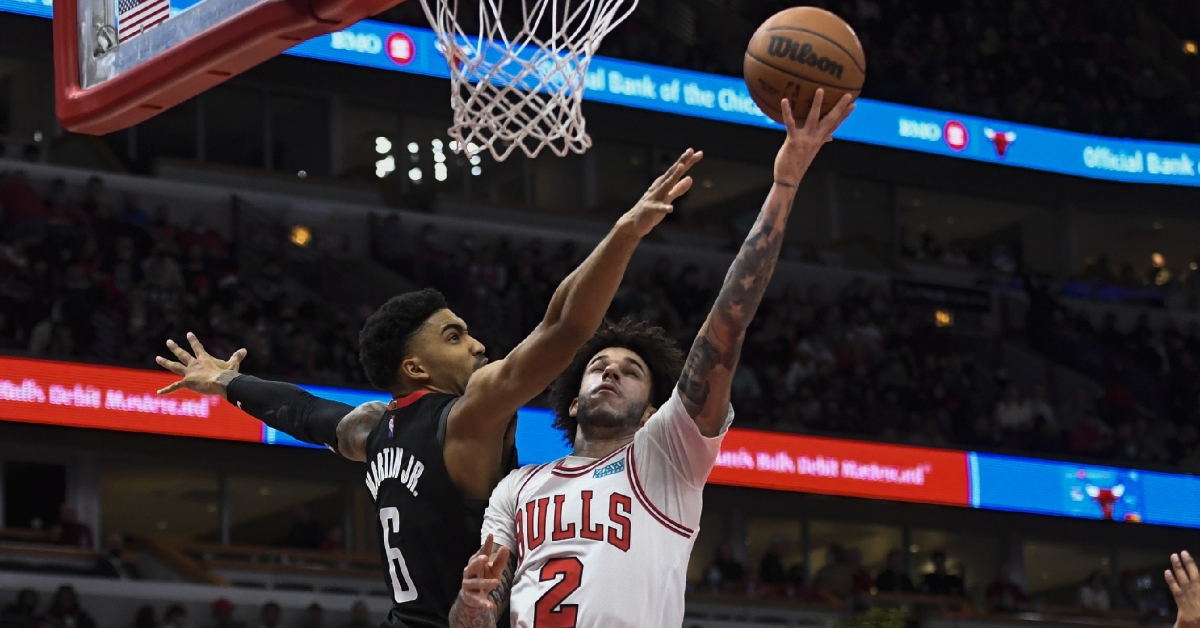 | | |
| --- | --- |
| Bulls get revenge on Rockets with dominant performance | |
---
| | | |
| --- | --- | --- |
| Tuesday, December 21, 2021, 2:11 PM | | |
CHICAGO – Perhaps all the Chicago Bulls (19-10) needed to get back on track was a week shutdown for a team-wide COVID outbreak. All kidding aside, this team has returned from the week off of competition and has been slowly getting healthier by the day. They seem to be playing well together, have healthier legs, and it seems like they took the time off to rest up and get ready.
One day removed from knocking off the Lakers, the Bulls welcomed the Houston Rockets (10-21) to the United Center as they looked for another big win. Record aside for Houston, this team is playing much better under Stephen Silas, and the Bulls have seen firsthand how good this Rockets team can be. This is the same Houston team that erased a double-digit halftime lead at home against the Bulls last month and ended up winning by double-digits themselves.
Needless to say, the Bulls had revenge on their mind as that was a game this team would love to have back. Despite slowly getting some pieces back, the Bulls are still without Zach LaVine, among others, as he will be out until after Christmas. In his absence, DeMar DeRozan continues to play at an MVP level and continued to do his thing with a game-high 26 points on Monday.
He was backed by the suddenly hot Lonzo Ball, who added 19 points, eight assists, five rebounds, and five steals, while Nikola Vucevic is starting to find his shot after another 18 point night. The Bulls did receive a little bit of bad news as Alex Caruso played just six minutes before leaving the game with a foot injury. That makes the second player in two days (Derrick Jones Jr) who left injured as Caruso has been one of the more critical pieces on the team.
Expected to miss a few games himself, Coby White will have to pick up the slack for Caruso and did a great job of doing that last night with 24 points off the bench. Add in 16 points from the hometown man Alfonzo McKinnie and 11 from Tyler Cook, and the Bulls were getting contributions from just about everyone.
For the Rockets, the offense was not the problem as they surpassed 110 points against an outstanding Bulls defense. Christian Wood did his thing with a team-high 23 points to go with 11 rebounds as his excellent play with the Rockets continued. Add in 16 points from Jaesean Tate and 15 from Amani Brooks and Kenyon Martin Jr, and the Rockets had plenty of offensive firepower, but it wasn't enough as the Bulls rolled 133-118.
Stepping up when called on
The Bulls are getting healthy, which is a good thing, but it hasn't happened as quickly as they would like. Yes, five of their COVID players have returned, but three more are expected out until after Christmas, with Ayo Dosunmu and LaVine two of those players. Add in recent injuries to Jones Jr and Caruso, and this team will continue to play shorthanded for the next few weeks.
With that being said, the Bulls know they will need production from everyone on the roster, and that started to show last night. White was especially huge with 24 points off the bench, but we have seen games like this from him before. It is about consistency with him, and if he can consistently do that, it will be a huge lift.
Cook has been nonexistent for the team this season, but he put together a great game on Monday. McKinnie was recently signed to his second 10-contract and returned the favor with 16 points. While these are not household names, they will be crucial to the Bulls short-term success as Chicago continues to wait for healthy bodies.
Christian Wood would look good in Chicago
It is no secret that the Bulls are going to be searching for front-court help as the trade deadline nears. The question is, how serious are they about adding more size, and at what cost? If the Bulls are to trade for a significant piece, they will have to give something up, which this team understands.
COVID could ultimately get in the way of that as this team can't afford to trade pieces if they don't have enough consistent healthy bodies. Fans have seen plenty of names thrown out there for who the Bulls are interested in, but one name that isn't talked about is Wood. A few seasons ago, the former Milwaukee Buck was traded to the Rockets G-League team after never getting a chance with the Bucks.
Since that trade, Wood has not only emerged as the best player on Houston, but perhaps one of the top PF in the league who can also play C. Given the Rockets' position, I find it very unlikely that all their significant pieces remain this season. Wood could be a priority for the Bulls, and I think he fits well with this team.
He would not only give Chicago a much-needed scoring presence on the interior, but give the Bulls the size they are lacking from the PF position. A deal for Wood makes sense, but it wouldn't come easy or cheap.
Another impressive dime from Alperen Sengun to Christian Wood. pic.twitter.com/7AhC2cqrIm

— Jackson Gatlin (@JTGatlin) December 21, 2021
The severity of Caruso's foot
Although not COVID-related, it does appear Caruso is going to miss a few games as he left Monday night with a Sprained foot. This wouldn't be the first time he missed time this season as he suffered a hamstring injury and missed a few games because of it. Sprained feet are always tricky as they can linger longer than you would expect.
Caruso is a crucial piece to the Bulls for various reasons. He may not be an elite scorer, but he leads the NBA in steals and is a huge reason this team has gotten so much better defensively. He is a baller and does all the little things right that most NBA players shy away from doing. Hopefully, this isn't a long-term thing, and he can get back to the hardwood as soon as possible.
Alex Caruso (left mid-foot sprain) will miss the remainder of tonight's game vs. Houston pic.twitter.com/yp5vDl5eN5

— Chicago Bulls (@chicagobulls) December 21, 2021