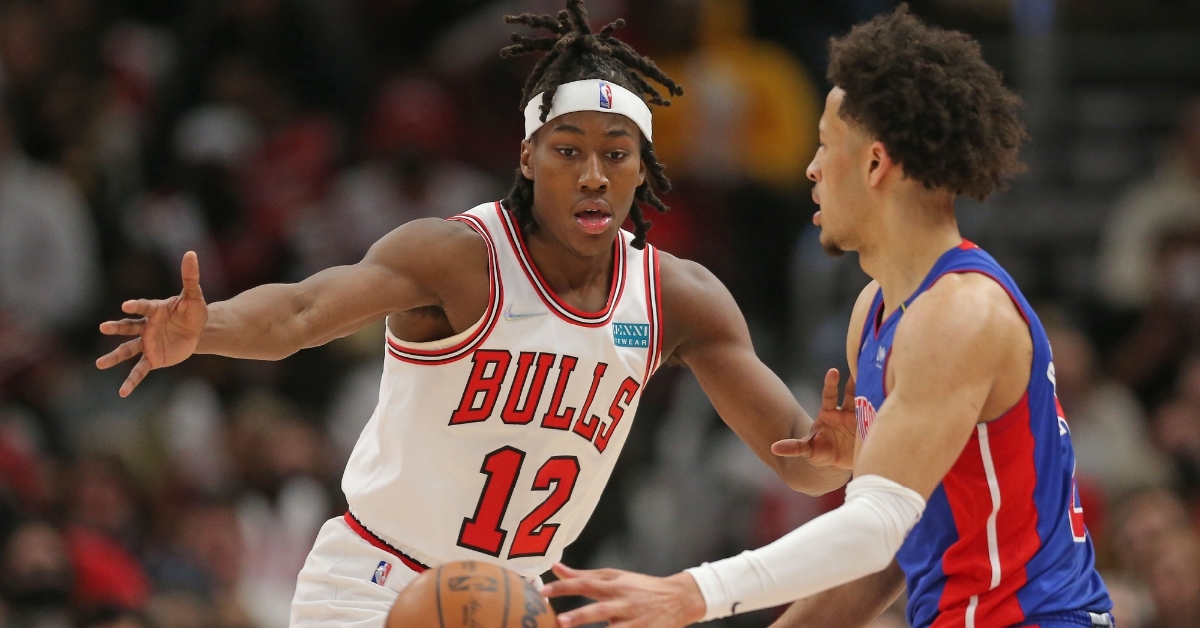 | | |
| --- | --- |
| Bulls move record to 27-11 with win over Pistons | |
---
| | | |
| --- | --- | --- |
| Wednesday, January 12, 2022, 8:32 AM | | |
CHICAGO – It is not always how you start a game, but more so how you finish a game. That was exactly the case for the Chicago Bulls (27-11) last night as they welcomed the Detroit Pistons (9-31) for game one of a nice little homestand. This was a makeup game from a previously postponed contest, so the Bulls had an opportunity to pick up a win and rest some players knowing who is on the horizon the next two games.
Unlike many of their games that saw the Bulls get off to a hot start, Chicago struggled to find their groove early as the Pistons raced out to a nice 9-5 lead. Credit Detroit for that, as they did a great job taking many things away from Chicago. Zach LaVine had one of his worst nights as a Chicago Bull, finishing with just 10 points, but adding nine rebounds and seven assists for a near triple-double. Typically when LaVine is held in check, the Bulls struggle, and that is precisely what was the case in the first quarter as the Bulls led by one.
Once the second quarter got underway, you saw the Bulls starting to find more of their rhythm as their offense was beginning to match their defense. Nikola Vucevic had an excellent game for the Bulls, leading all scorers with 22 points and adding eight rebounds to his name. DeMar DeRozan backed Vucevic with a 20 point, 12 rebound performance while Lonzo Ball dropped 18 points, giving the Bulls another nice three-man combo.
Holding a nine-point lead at the half, Chicago began to impose their will in the second half, and that all started in the third quarter when they outscored Detroit 36-14. They followed that up with another dominating fourth quarter where the Bulls outscored them 36-21 and dropped 72 points in the second half to outscore Detroit 72-35. That alone was the biggest difference in the game as Chicago cruised to a 133-87 home victory.
Even though LaVine had a rough game, Chicago did a great job getting a collaborative effort with eight players landing in double figures. Four were starters, and four came off the bench, including 13 from Coby White, who continues to play well. Alfonzo McKinnie, Matt Thomas, and Ayo Dosunmu added 10 points each as those eight players nearly outscored the Pistons entire roster.
For Detroit, Josh Jackson put together an impressive showing off the bench as he led the way for Detroit with 16 points. Saddiq Bey led all Detroit starters with 14 points, with Isaiah Stewart adding 11 as those were the lone double-digit scorers for the Pistons. Forward Jerami Grant was not in the lineup on Tuesday, but it may not have made much of a difference in this one.
A complete team effort
When you talk about a total team effort win, these are the games you immediately point to. Everyone who was suited up for the game played, and only Marco Simonovic came away with no points. That means everyone else had at least two points in the game, which is always a good thing.
Not to mention having eight double-digit scorers allowed the Bulls to make up for a rare off night from LaVine, and that is why the Bulls are in the position they are in this season. Knowing what is coming up on the horizon this week, this was a crucial game for Chicago. Winning by that wide margin allowed Chicago to rest some of their starters and give the bench players more minutes. Those players are going to be key pieces the rest of the way.
Bounced back to improve to 27-11!@Therabody | #BullsNation pic.twitter.com/FLqAmVIZgR

— Chicago Bulls (@chicagobulls) January 12, 2022
There is room for you in Chicago Grant
The Pistons continue to be in rebuild mode, but they do have some significant pieces. Obviously, Cade Cunningham is the big building block for them to build around, but so are Grant and Bey. Grant is a very intriguing piece in this situation as he is nearing the end of his contract in Detroit.
Knowing that and the Pistons' position, they may look to move the F and acquire either more talent or additional picks to help jumpstart a rebuild. The Bulls are in the market for a PF, and Grant would look very good in Chicago. He is another offensive threat the Bulls could count, but would be the fourth option on this team instead of the first or second option in Detroit.
The only hangup is what the Bulls would have to give up in return. They do not have the draft capital some teams do, so that alone wouldn't make things easy. I would also think that Patrick Williams and potentially White would need to be included in that deal, which alone may hurt this team's chemistry off the bench.
Arturas Karnisovas loves this team and loves their position, but that doesn't mean he isn't going to be looking for someone at the deadline. The question now becomes how bad the Bulls want to add pieces knowing they may disrupt the current chemistry they have built.
Things get real this week
The Bulls needed a nice bounce-back win after seeing their nine-game winning streak end vs. Dallas the other day. However, the next two games will be a tall order for this team as they face Brooklyn and Golden State. Both games are in Chicago, and both games will be on ESPN, so expect there to be a ton of juice in the arena.
The Nets are entering tonight's contest as the No.2 seed in the East behind Chicago while the Warriors continue to pace the NBA with the League's best record. Chicago has proven to be legitimate all season, yet some still don't believe in this team. Should they go 2-0 or even 1-1 over their next two, it will be hard not to believe in this team making a legitimate run toward an NBA final this season.