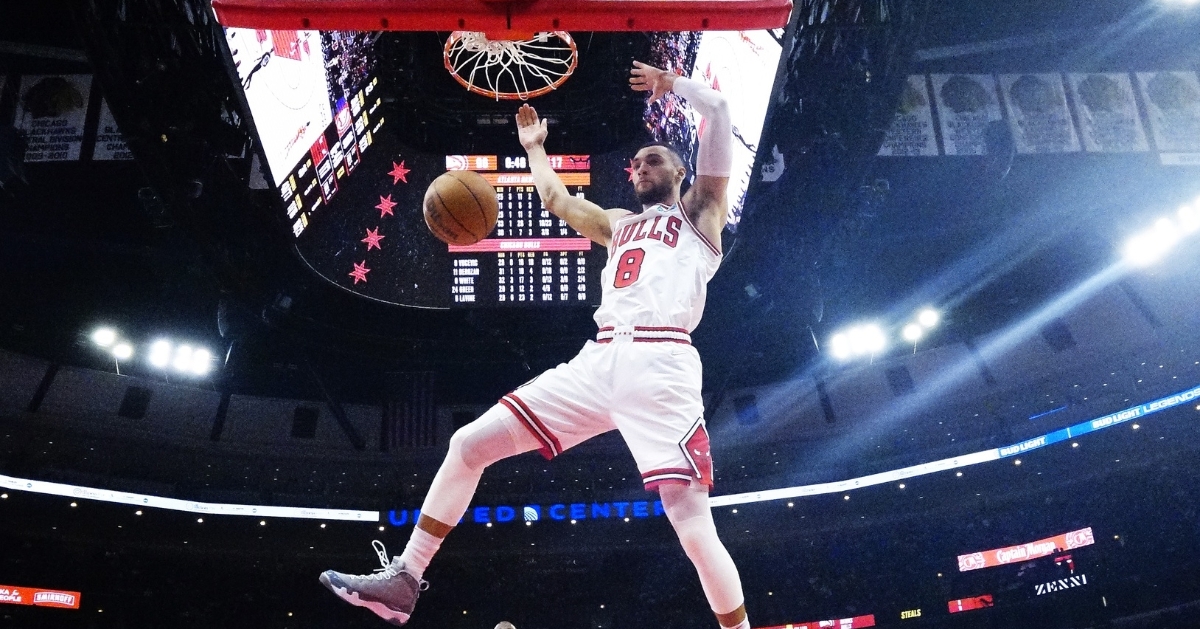 | | |
| --- | --- |
| Bulls News: Zach Lavine injured in blowout loss to Warriors | |
---
CHICAGO – With one game remaining until the halfway point in the season, the Chicago Bulls (27-13) haven't been faced with too much adversity to this point. After losing to Brooklyn by more than 30 on Wednesday, the Bulls welcomed the Golden State Warriors (31-11), coming off a blowout loss of their own to Milwaukee.
Looking to erase the pain from that Brooklyn game, Chicago is now facing adversity for the first time this season as they not only dropped a second straight game, but a second straight blowout 138-96. To make things worse, the Bulls may have lost more than just a game as Zach LaVine left midway through the first quarter with a knee injury and didn't return.
His absence is something the Bulls were not expecting, and you could see the air completely leave the building when he left the floor. Knowing they would be without their second-best scorer, it was up to others to pick up the slack as Coby White came up huge off the bench. Not only did he drop a game-high 20 points, but look for him to go into the starting lineup until LaVine comes back.
Chicago also had a strong showing from Nikola Vucevic, who dropped 19 points to go with 14 rebounds, while DeMar DeRozan continues to battle through some recent shooting struggles finishing with just 17 points on the night. Lonzo Ball got off to a hot start with 12 first-half points on four triples, but cooled off immensely as he finished with 18 points in what was another rough night for the Bulls.
Heading into the game, Chicago knew the Warriors would be without Klay Thompson, so you had to like their chances to pull out a win. Even without Thompson, the Warriors continued to prove why they have the second-best record in the league as Jonathan Kuminga led all scorers with 25 points off the bench, putting the Warriors depth on display.
Jordan Poole and Andrew Wiggins continued their strong run of play in the starting lineup finishing with 22 and 21 points, respectively, as Golden State had a trio of 20 point games. Ironically, Stephen Curry is going through a rough patch when it comes to shooting the ball. He looked much better tonight, dropping 19 points, but the greatest shooter of all time hasn't looked like himself over his last few games.
Even with that being said, the Warriors used a massive second quarter to bust the game wide open, capitalizing on the Bulls mental mistakes. Chicago could not recover from there, and you now have two deflating losses in a row.
MRI set for LaVine
Just when you think things can't get any worse after Derrick Jones Jr. was injured last night, LaVine follows in his footsteps as he too left with a first-quarter knee injury. Jones Jr. got better news than anticipated Friday morning, but he will still miss several weeks which is not good for a team already shorthanded.
For LaVine, the team doesn't think this is a severe injury, but they want to make sure, so they have scheduled an MRI for him Saturday. That means, at the very least, he will miss the next two games as he will not travel with the team. Outside of that, it remains to be seen how severe the injury is as the Bulls can't afford too many more blows like this.
Chicago is a team that has been battling through injuries all season, but at some point, you had to think those injuries would catch up with them. Losing LaVine for any extended amount of time will be a tough pill to swallow as that may be the injury they can't overcome.
Chicago Bulls HC Billy Donovan said that Zach LaVine will be out at least for the next 2 games. He will have an MRI tomorrow.

(Via Bulls FB Live)

— Daniel Greenberg (@ChiSportUpdates) January 15, 2022
Sloppy play looms large
For the most part, Billy Donovan and his guys have played smart basketball, hence their start. For whatever reason, the Bulls are developing some bad habits of late, and Donovan has been forced to use plenty of early timeouts to make adjustments.
Usually, when he calls those timeouts, the team makes the necessary adjustments, but that hasn't happened the past two nights. Going back to the third quarter on Wednesday, and now the second quarter on Friday, the Bulls were not only outscored by near 50 in those quarters, but it was an all-around ugly showing start to finish.
Costly turnovers, mental mistakes, and the inability to make shots consistently are something the Bulls have dealt with the last few days, and they are paying the price because of it. Hopefully, this team can hit a reset button soon because they definitely need it.
Has this team been exposed?
When things were good, they were going well, as Chicago recently won nine straight games. However, when the Bulls lose, they often look bad doing it, making three ugly losses in four games for this team. Even with another loss, this team still leads the Eastern Conference by one game, but things are getting much tighter than they were a week ago.
At this point, fans shouldn't be concerned about them missing the playoffs because it would take a historical collapse for that to happen. Instead, they should be looking at these last two games and even the second half against Dallas to figure out if this team has been exposed. Injuries or not, Chicago has done a great job playing with what they have and have been a pleasant surprise this season.
However, when the injuries start to pile up, you can only overcome so much, and that is where this team is sitting right now. Looking at a lot of the Bulls losses this season, you can point to teams with tons of size, lots of scoring, and a dominating PG as the most significant issues for this team. The league now sees it and is taking notice of it, so let's see how Donovan and company can adjust heading into the second half of the season.