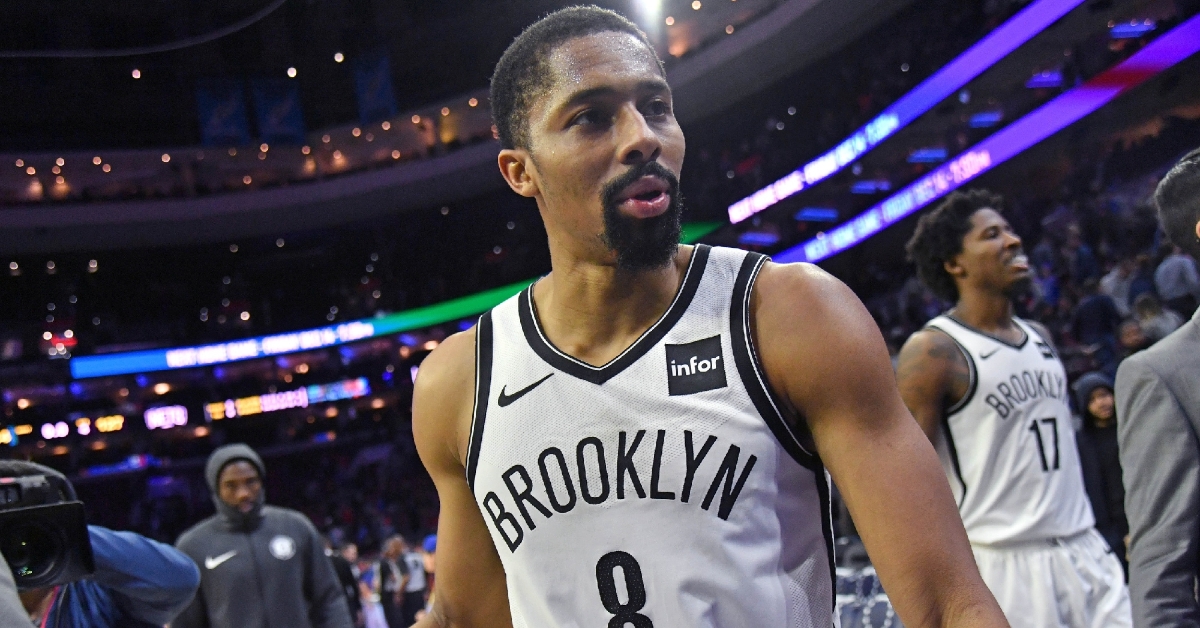 | | |
| --- | --- |
| Bulls should be interested in free-agent point guard | |
---
| | | |
| --- | --- | --- |
| Monday, June 21, 2021, 11:57 AM | | |
There have been many instances around the basketball league where a team trades a player in hopes of contending for a title. Sometimes it works out in their favor, but often it backfires, and you are left wondering what might have been.
You also have to consider who you are trading and what would happen if the player you gave away emerged into a star. Spencer Dinwiddie is a prime example of this, as the Bulls acquired him in 2016 before sending him to the Brooklyn Nets. During his time with the Bulls, Dinwiddie spent time in the G League and never saw action with the NBA team. At that time, Chicago felt he didn't fit their plans and elected to part ways with him.
That decision continues to prove it was not a wise one as Dinwiddie has emerged into a great player and a key component for the Nets offensive success. During his five seasons with the Nets, Dinwiddie has seen his production go from 7.7 PPG to 20.6 PPG in 2019-20. After acquiring Kyrie Irving in the offseason, Dinwiddie went from starter to the bench and averaged his lowest point total since joining the Nets before getting injured and missing the rest of the season.
Dinwiddie tore his ACL earlier in the season, but it wasn't a complete tear making it possible that he could return to the floor during the postseason. That never happened, and now that Brooklyn is home for the summer, Dinwiddie is looking for a new home as he has declined his 12.3-million-dollar option for next season.
At 28 years old, Dinwiddie is the classic example of a player coming into his own and improving every season. He has certainly proven he can be a starting PG at this level. Still, with Irving and James Harden on the roster, it is doubtful that Dinwiddie would see significant minutes unless one of them goes down with an injury. Dinwiddie has proven to handle a consistent workload, and there is no reason why he wouldn't be able to sign a multi-year deal with someone.
The Bulls are one of the teams who look to discuss a contract with the guard, especially after Coby White will miss significant time recovering from off-season shoulder surgery. Torn ACLs are more common than ever before, but Dinwiddie had a similar injury in college, so teams may be wondering about his durability from here on out. However, even with that in the back of their mind, it shouldn't stop the Bulls from meeting with his camp, especially when you look at his production the past few seasons.
Not only has his scoring nearly tripled since being given regular minutes, but he has improved in every season outside of this year as the injury prevented that from happening. His career-high 2019 season helped the Nets steal the seventh seed in the East and put him on the map as a legitimate starting PG in this league.
At 6-5, not only does Dinwiddie come with good size for a PG, but he has proven to be a great distributor along giving the Nets an excellent jump shot on the floor. Dinwiddie also knows how to get to the free-throw line, where he averaged seven free throw attempts per game. Chicago would benefit from that as he will be much more aggressive than some of the Bulls PG options they used this year. The Bulls ranked dead last in free throw attempts per game this past season, so adding a guy like Dinwiddie would almost guarantee they move up.
While his basketball skill set has been on display the past few years, his intangibles stand out the most as he has hard to work for everything in this league. He was never given a regular role and had to not only prove he deserved one, but had to work hard to stay in a starting role. While in the Bulls organization, Dinwiddie spent the entire season in the G-League, which the Bulls then allowed him to walk and find an NBA job which happened to be in Brooklyn.
At that time, I don't think the Bulls or anyone in the league expected him to develop into the player he has become. Even going back to his college days at Colorado and Dinwiddie never scored more than 16 PPG for an entire season, so to see him approach 21 is a pleasant surprise. It isn't too often when a team gets a second chance at a player, but this could be that chance for the Bulls. They need PG help, and Dinwiddie has proven to be a great PG who will cost a lot less than a Lonzo Ball, Chris Paul, or others.