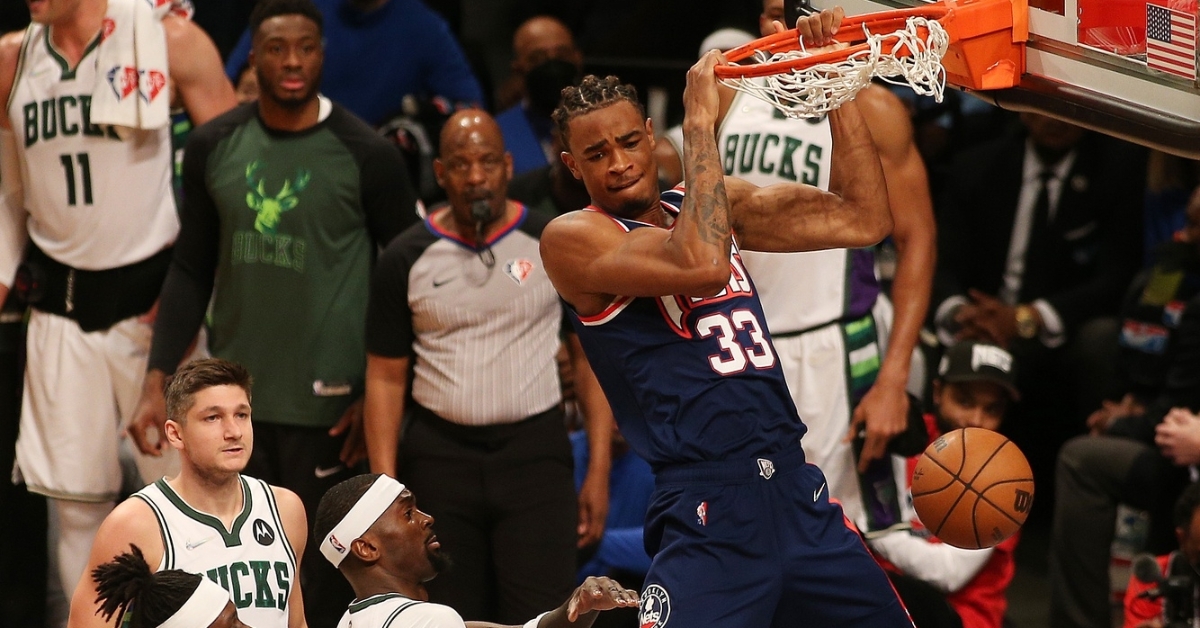 | | |
| --- | --- |
| Bulls should consider Nic Claxton if available | |
---
| | | |
| --- | --- | --- |
| Monday, June 20, 2022, 5:05 PM | | |
The Bulls have made it clear that they want to get better when it comes to interior defense. As reports have surfaced that they are interested in Rudy Gobert and Mitchell Robinson, nothing has come to fruition quite yet as both of these targets would require a significant haul in return.
While the Bulls still have Nikola Vucevic under contract, his interior defense is not great, and that is why the Bulls want to improve in that area. If the two mentioned above will require more than what the Bulls are willing to give up, who would be the next best option?
Well, 23-year-old Nicholas Claxton could be an option for the Bulls with a trade with Brooklyn for the freakishly athletic forward. Not the most productive player in terms of offense, Claxton is coming off a season where he averaged 8.7 PPG, 5.6 RPG, and 1.1. BPG off the bench. He also shot 67.4% from the field, which is highly efficient.
Once the playoffs started, Claxton elevated his game to a different level, where he averaged 10.5 PPG, 6.3 RPG, 1.3 SPG, and 2.3 BPG across the four-game series. That production is worth noting as he seems to be a guy who may be looking for a change of scenery to have the breakout he is expecting.
Not only is he athletic, but he brings plenty of defensive versatility, which instantly makes him an excellent fit for the Bulls bench rotation. Add in the fact that reports have surfaced stating he will be made available at a very cheap price, and that is another win for Chicago.
It is unlikely the Nets will match his offer this offseason, and after giving the Nets 19 starts and averaging 20 minutes throughout the duration of the season last year, you have to wonder what more he can give someone. I understand the Nets have some pieces they want to retain, but I don't get why they wouldn't want to bring him back, especially when he stabilizes what is otherwise not a very good center rotation.
If the Nets choose not to bring him back, the Bulls would be able to grab him for around six million, which would be considered a major steal. The craziest part about this whole situation is that this is not the first time the Nets have wanted to move on from Claxton. In fact, they tried to trade him at the deadline last season until a minor hamstring injury sidelined him for a few games making those trade talks go away.
Unlike many of the moves discussed this offseason that would require a significant haul, this is not one of those moves. Sure, I would expect a guy like Coby White to be included in the deal and maybe Marko Simonovic, but apart from that, you will not see any significant names dealt.
That would be huge for the Bulls as it would allow them to keep Vucevic for his offense and chemistry factor with this team while also adding a solid backup center option behind him that brings with him impressive defensive versatility.
Whatever the Bulls decide to do with their front court, or more prominently, the center position, expect those talks to heat up in the coming days leading into the draft. While nothing may be decided right now, I do anticipate some sort of movement happening on draft night. What that move remains to be seen, but expect the unexpected from Arturas Karnisovas and the new regime.