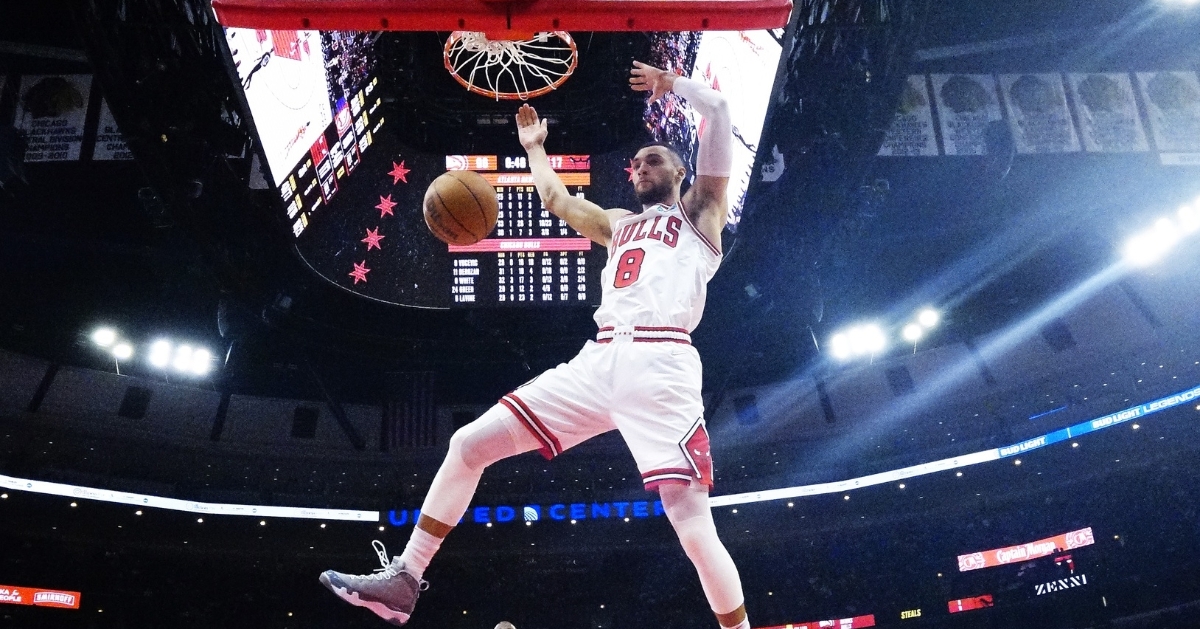 | | |
| --- | --- |
| Bulls with five-game winning streak after victory over Hawks | |
---
| | | |
| --- | --- | --- |
| Thursday, December 30, 2021, 12:44 PM | | |
CHICAGO – No team has come out of the COVID break hotter than the Chicago Bulls (22-10). After winning two straight after having a few games shut down due to COVID, the Bulls were again on a brief delay as they had another game postponed through Christmas. In the days since returning, not only has this team been on fire, but they are clicking on all cylinders, winning three straight out of the shoot and five straight overall.
Two of those wins came against the Atlanta Hawks (15-19), who have been a problem for the Bulls in recent seasons. With Chris Fleming continuing to run the show while Billy Donovan is in the COVID protocol, all he has done is start his NBA coaching career 3-0, which is never an easy feat to do. For the second time in three days, fans were treated to an exciting first quarter where the Bulls held a 38-36 lead.
Trae Young continued to be a thorn in the Bulls side as he dropped a game-high 26 points to go with 11 assists. Considering the numbers he put up against this team last year, that should be viewed as a win for the Bulls. Once the second quarter began, not only did the Bulls continue to play inspired ball on the offensive end, but they started to crank things up defensively.
Led by Zach LaVine and his team-high 25 points, 15 which came in the first half, the Bulls had plenty of scoring balance to go around as the Hawks heads were spinning. With 20 points and eight assists, DeMar DeRozan had one of his worst nights in a while, but that is far from a bad night as he continues to pair exceptionally well with LaVine.
The player who is starting to come into his own once again is Nikola Vucevic, a monster on Wednesday. Sure, his 16 points are down from where he typically was before this season, but when you add 20 rebounds, it makes for a dominating double-double, as that has been the norm for him lately. Add in 17 points from Coby White, 14 points from Javonte Green and Ayo Dosunmu, and 10 points from Tyler Cook, and it is no surprise that the Bulls led by 21 points at the half and had the game virtually in hand at that point.
Even though the Hawks outscored Chicago by seven points in the second half, the Bulls built such a significant lead that it allowed them to rest some of their key players longer than usual. A big reason for the Hawks sudden second-half success was that other options were starting to back up Young, including Clint Capela, who finished with an 18 point 15 rebound double-double.
The Hawks also got 16 points from Chaundee Brown Jr, 14 points from Cam Reddish, and 13 points off the bench, each from Malcom Hill and Cameron Oliver. Typically scoring 117 points would be enough to win most games, but not in this case as the Bulls continue their scorching play with a 131-117 win.
Passing the rock
When the Bulls found out that Lonzo Ball would miss the next week plus with COVID, many people wondered what that might do to the offense. With Alex Caruso also out with a foot injury, it was up to White or Dosunmu to handle the PG duties until Ball returned.
While both of them can be good scorers, neither can pass the ball and run the offense like Ball can, which was a concern. Now, three games later, that concern has gone away as this Bulls team is clicking on all cylinders right now. Not only are they shooting better than 53% as a team, but they have been averaging 124 PPG, which makes them tough to beat. Add in 38 assists on 52 field goal attempts, and nearly 75% of their buckets are coming via the assist.
Ball or not, this team is doing a great job sharing the basketball, and it has been a collective effort. They have been one of the better passing teams all year, and now you can see it without Ball in the equation.
Team W! Final Numbers ??

Zach: 25p/2r/5a
DeMar: 20p/4r/8a/1b
Coby: 17p/3r/12a/1b
Vooch: 16p/20r/1a/3s/1b
Woo: 14p/2r/3a/2s/1b
Ayo: 14p/2r/1a/1s/2b
Tyler: 10p/3r
Matt: 5p/1a
Troy: 4p/3r/6a/3s
Derrick: 2p/2r/1a
Devon: 2p
Mac: 2p pic.twitter.com/Fk97YNxIpW

— Chicago Bulls (@chicagobulls) December 30, 2021
Hitting from the perimeter
Over the last few seasons, the Bulls have not only struggled from deep but have been one of the worst teams in terms of Overall three-point percentage. However, this season, that is far from the truth as Chicago ranks 5th in the NBA in three-point percentage.
Unlike most teams who will fire 30-40 three-pointers up per game, the Bulls are not about volume, but instead, focus on the quality of looks to be had. That alone is a big reason why their shooting percentage has gone up, and their efficiency behind the arc certainly hasn't gone unnoticed.
Last night they were a pedestrian 10-22 from deep, but that still translates to 42.2% from deep. Two days earlier, against this same Hawks team, Chicago not only shot near 50% but made a season-high 18 triples in that game. Although the three-point shot is not a big part of their game, the Bulls continue to show they can knock down that shot and hit it when needed.
??The @chicagobulls put together a great team effort across the board!@ZachLaVine: 25 PTS, 5 AST, 5 3PM@NikolaVucevic: 16 PTS, 20 REB, 3 STL@DeMar_DeRozan: 20 PTS, 8 AST@CobyWhite: 17 PTS, 12 AST pic.twitter.com/LhptW2JcQs

— NBA (@NBA) December 30, 2021
Mac McClung is on the board
Throughout the never-ending COVID whirlwind, the Bulls have been dealing with comes the acquisitions of several new faces signed to hardship deals. While most of those names haven't panned out, one did in Alfonzo McKinnie, who replaced Alize Johnson after signing a deal to finish the season.
Following that deal, the Bulls added a few more faces in Ersan Ilyasova and McClung. While I loved the idea of bringing in a veteran in Ilyasova who brings some much-needed size with him, I find it hard to believe he remains with this team once Tony Bradley Jr returns. On the other hand, McClung is an intriguing player and one who could fit in nicely with the Bulls.
Known for his viral dunking videos in high school, McClung was once a Georgetown commit before transferring to Texas Tech. While with the Red Raiders, he had a breakout senior season and then landed with the Lakers organization playing for their G-League squad. During his time with them, he put up impressive numbers but never had a chance to show his talents on an NBA floor.
McClung reminds me a lot of Caruso, just a more athletic version. He is getting his chance right now, and although brief, he scored his first two points of the season off the bench for the Bulls last night. Depending on how things transpire, it wouldn't shock me to see McClung stay on the roster and the Bulls possibly move on from Matt Thomas.
Mac McClung's FIRST NBA BUCKET ?? @McclungMac (via @NBCSBulls) pic.twitter.com/we0jYq3ROq

— Overtime (@overtime) December 30, 2021