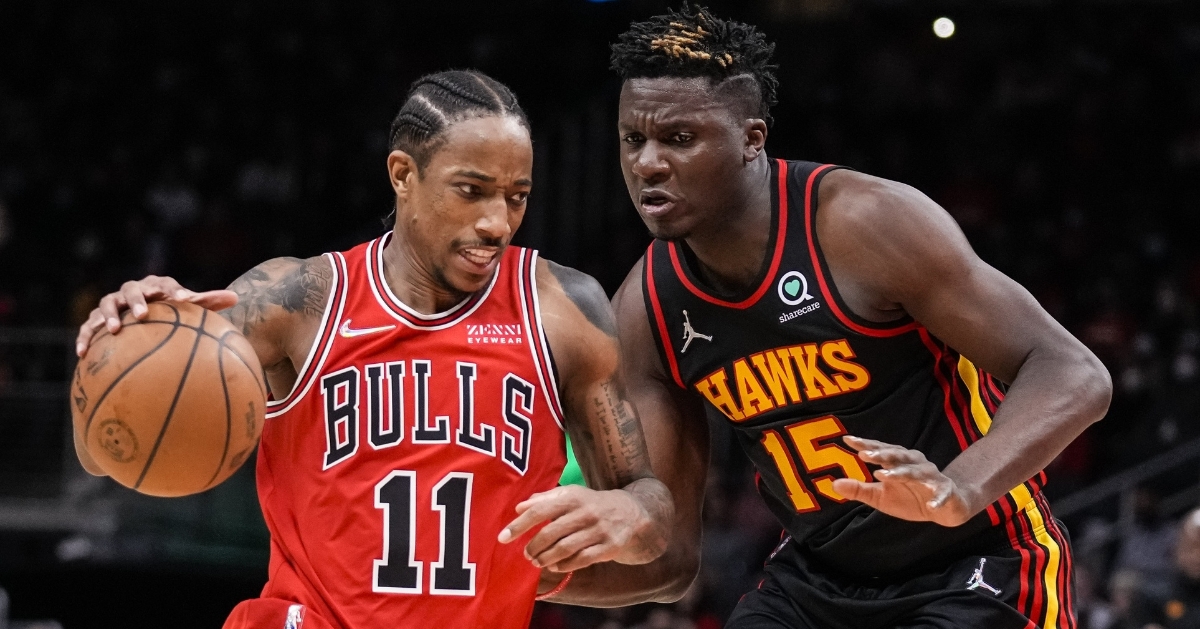 | | |
| --- | --- |
| Bulls News: DeRozan and LaVine combine for 65 points and 19 assists in win over Hawks | |
---
| | | |
| --- | --- | --- |
| Tuesday, December 28, 2021, 10:55 AM | | |
ATLANTA – It is nice to know that the Chicago Bulls (21-10) are not the only ones dealing with COVID issues around the league. What seems like more and more names by the second, the NBA has changed the COVID roster policy, and the league has the Chicago Bulls and their breakout to thank for that. Fortunately, for the Bulls, they are getting healthier, although they are still missing several players, including Lonzo Ball, who just entered the health and safety protocols.
For the Atlanta Hawks (15-18), they find themselves battling for the play-in tournament right now, but are also significantly shorthanded themselves due to COVID. John Collins is the biggest name missing from the roster, as was Trae Young, who did clear the protocols and was available for Monday's game. That was terrible news for the Bulls as the Hawks went 3-0 against them last season, with Young averaging 37.5 PPG in the process.
As you watched the first quarter unfold, it looked like Young was going to have his way with the Bulls once again as he had Coby White on skates all quarter long. Not only did he drop 10 first-quarter points, but he converted on several assists to help the Hawks open up a nine-point lead at one point. The Bulls did a great job battling back as a Troy Brown Jr triple cut the deficit to five after one-quarter of play. Take away that first quarter, and the Bulls did a great job adjusting to Young, but he still managed to finish with 29 points.
Not only did Young have a great game, but Bogdan Bogdanovic overcame a slow start to finish with 20 points, but it was the Cam Reddish show that has Atlanta feeling excited. Everyone knows that Young will be the leader of this team, so other players must get involved. Not only did Reddish get involved in a big way, but he had the hot hand all night, knocking down eight triples for a team-high 33 points.
Even with three players dropping 20 plus points, the Bulls had all the answers they would need as they returned the favor with a trio of 20 point scorers of their own. Two of those players in DeMar DeRozan and Zach LaVine dropped 30 point games as the duo combined for 65 points. LaVine knocked down five triples of his own en route to a 30 point game, but it was his second quarter that flipped the game around.
Not only did he score double digits in that quarter, but he converted on more than half of his points in the second, including knocking down a tough fade-away jumper as time expired to give the Bulls a six-point lead going into the half. The Bulls were able to build off that lead all second half long as DeRozan not only started hot but finished hot, going 14-20 from the field for a game-high 35 points as those two continue to be tough to contain.
Add in a monster 24 point, and 17 rebound double-double from Nikola Vucevic, and the Bulls had a trio of strong performers as they continue to shoulder the load for this team. Coby White (13) and Matt Thomas and his season-high nine points also provided some nice compliments across the board as the Bulls continue to play inspired basketball winning 130-118 over the Hawks.
Vucevic coming into his own
When the Bulls traded for Vucevic last season, the goal was to give LaVine an all-star caliber player to take some of the load off him. Although the wins never translated once that trade was made, you could see how Vucevic played with this roster, which would be critical to the Bulls success this season. After acquiring DeRozan in the offseason, Vucevic went from the No. 2 option to the team's No. 3 option, and that is scary to think about.
I am not sure if that messed with his head early, but he was not the same player over the first month of the season as he is now. Sure, you could expect a double-double from him every night, but his shooting was at an all-time low as nothing was falling for him. Add in a trip to the COVID Protocols, and the first month of the season was a nightmare for Vucevic.
Since his return to action, Vucevic has not only seen his shooting take a dramatic increase, but he is starting to look like the player from Orlando once again. Sure, he is a defensive liability at times, but he is doing a much better job now than earlier in the season. When you lack the overall size like the Bulls do, they need him to be on the floor, and he continues to give this team everything they could ask for and more.
Young loves the Bulls
Normally, you would look at a 29 point, nine-assist stat line and say how good of a game that was. You're right in assessing it that way, but last night was a down night for Young when you look at what he has done to this team. Going back to last season and even the season before that, Young has dominated the Bulls as this is the one team he has the most success against.
For whatever reason, Young feels at home against Chicago, averaging 37.5 PPG in three contests against them last season and 33.8 PPG against them for his career. Add in his 10.7 APG, and he is averaging a double-double against this team, so you can see where the problem is. Whether it is the Bulls lack of an athletic guard to keep up with him or other reasons, Young was off to his normal start in the first quarter last night and had the Bulls concerned for the rest of the game.
After that first quarter, Chris Fleming made some adjustments and contained Young much better for the most part. Sure, he still will get his points as most shooters do, but the key to stopping him is to contain him and not let him take over. With another game against the Hawks on Wednesday, maybe the Bulls can take a page out of the last three quarters and look to contain him yet again.
65 points
Having two elite guards is not an easy feat in the NBA, but having two elite guards capable of scoring 30 points on a given night is amazing. That is precisely what LaVine and DeRozan did last night as the duo combined for 65 points, which was exactly 50% of the team's scoring. When you look at the season, DeRozan averages 27.1 PPG, good for fifth in the NBA, while LaVine checks in at 26.6 PPG, good for 8th.
It is not too often you have two players in the top 10 in scoring on one team, but this team has two of the top 10 scorers in the starting lineup as they have been a nightmare to handle. The success of the Bulls is always going to fall on these two, but the way the team has played in their absence leads me to believe they would still win games.
The competitive nature that these men have brought forth this season has trickled down through the rest of the roster, which is why you see the results happening the way they are. Both players have a winning attitude and want to win, and now they are showing that tenacity on the court.