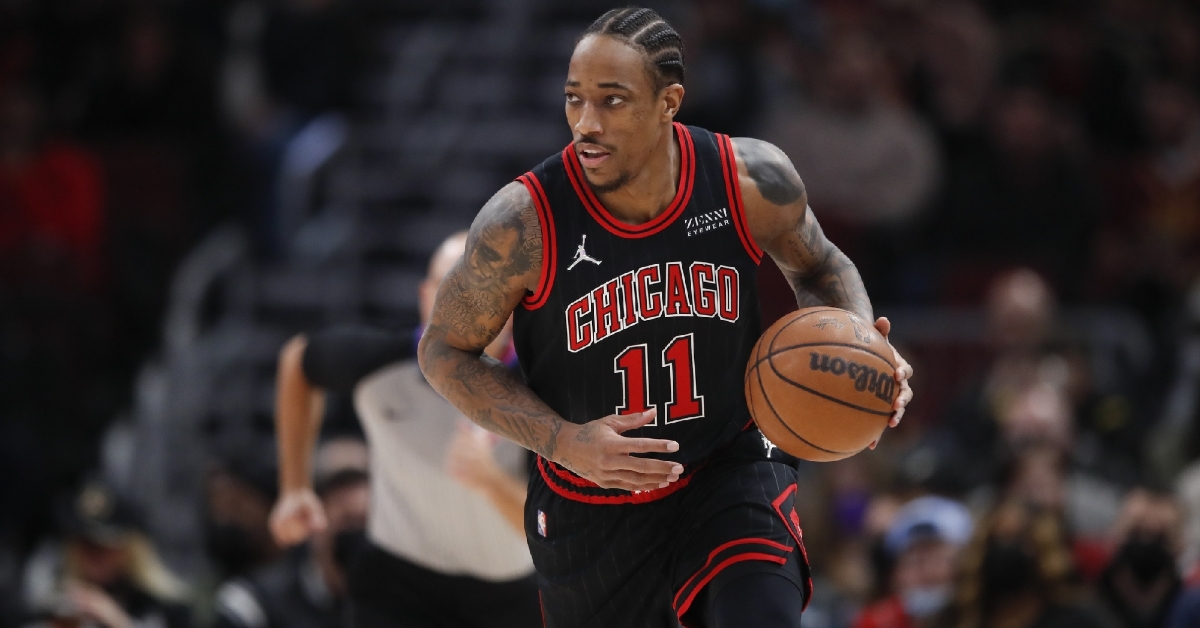 | | |
| --- | --- |
| Bulls News: DeRozan drops 30 points in win over Cavs | |
---
| | | |
| --- | --- | --- |
| Thursday, January 20, 2022, 3:28 PM | | |
CHICAGO – It took a little bit more than a week, but the Chicago Bulls (28-15) got back to playing winning basketball, ending a four-game skid. In the process, Chicago has seen a 2.5 game lead in the East shrink to less than a game, but they still hold the top spot by percentage points over the Miami Heat. Hoping to end their skid last night, the Bulls welcomed one of the biggest surprises in the league to the United Center as the Cleveland Cavaliers (27-19).
Not only is their overall record surprising, but they have surged into the top four in the Eastern Conference and continue to prove they are a legitimate threat this season. No one expected that going into the season, but teams are no longer taking them lightly now that they are here. The Cavaliers are the complete opposite of the Bulls as they start three players seven feet or taller as they have the tallest starting five in the league.
Compare that to the Bulls, who have the shortest starting five, and this is a matchup nightmare for Chicago, which is why the Bulls lost by 23 in their first meeting. Needing a win in the worst way, Chicago needed to overcome a slow start that saw the Cavaliers open a five-point lead. Once the second quarter began, the Bulls, Particularly DeMar DeRozan, started to take over. DeRozan led all scorers with 30 points, including 18 in the first half, where he went 7-8 shooting. After struggling in recent weeks, it was the type of game he needed to have and paved the way for a nine-point halftime lead.
Joining DeRozan was a quarter of starters who all had big games of their own. Nikola Vucevic held his own against the bigger Cavaliers, dropping 24 points to go with 12 rebounds, while Ayo Dosunmu chipped in with 18 points on a near-perfect night shooting. Coby White continued his excellent run of play with 16 more points as those four provided the Bulls with a huge offensive lift.
Chicago also had plenty of contributions off the bench, which started with Alex Caruso's return to the lineup. Sure, he was a bit rusty when it came to shooting, but he finished with nine points while his incredible defensive skills were dearly missed. Matt Thomas added eight points, with Troy Brown Jr chipping in with six as the Bulls had a complete-game effort in the win.
It was the Lauri Markkanen show for Cleveland as he continues to show up against his former team. Since arriving in Cleveland, Markkanen has been on a different level which irritates Bulls fans that he couldn't do that with them. He finished with a team-high 28 points and helped the Cavaliers remain close all night.
Darius Garland had an efficient night shooting the ball, as he made 50% of his shots as part of his 20 point game. 18 points from Evan Mobley and 13 from Kevin Love off the bench capped off the double-digit scorers for Cleveland as they didn't have enough firepower to keep up with the Bulls in this one.
A much-needed win
For the first time this season, the Bulls were stuck in the middle of a lengthy losing streak and facing significant adversity. For whatever reason, the injuries continue to pile up for this team, and at some point, you knew they would catch up with them. That has been the case lately, but the Bulls, fortunately, were able to build a bit of distance between them and the East, so that was a good thing.
Despite losing three games in the standings, this team remains tied for first, which is all that matters. When you look at the injuries they have dealt with this season, it is incredible to see them in their position, so credit everyone inside the organization for that. Chicago needed a win in the worst way last night not only to get back on track, but to give themselves some confidence.
They beat a good team without Lonzo Ball, Zach Lavine, and others, and that alone is a big win by itself. With the Milwaukee Bucks on the horizon, the Bulls needed this win to at least get the losing taste out of their mouths so they can now focus on the task at hand in Milwaukee.
Caruso, you were missed
From an offensive side of things, Caruso isn't going to wow you as a player. However, you take notice of all the other things he does well, especially on the defensive side of things. Even during the Bulls nine-game winning streak, Caruso missed most of that streak, and the Bulls were fortunate to have a relatively easy schedule during that run.
During that streak and their most recent four-game losing streak, the Bulls defense was a shell of how they have been all season, and you could argue that Caruso's loss was the reason. This man is a gamer who isn't afraid of anything and sticks his nose in the middle of the action.
Not only does he lead the NBA in steals per game, but he continues to play fantastic defense against some of the best players as they become frustrated with him. Last night saw Caruso not only return to the floor, but look at how much better the Bulls defense instantly was. You pair him with Dosunmu, and Chicago will have a pair of matchup nightmares for any team, and that alone will be huge in the second half of the season.
White and his trade value
Say what you want about White and the start to his NBA career, but he is playing the best ball of his career right now. Thrown into a starting role with Ball and Lavine out, White has been thriving, averaging 18.3 PPG as a starting while shooting at an elite clip. Consider the fact that he was already averaging 15.0 PPG off the bench and garnering the sixth man of the year considerations, and you can see the job he has done this season.
Everyone knows the Bulls will be in the trade market for someone, and most likely targeting a No. 4 to add more size while they wait for the return of Patrick Williams. From an upside point of view, Williams is a huge trade asset, but Chicago would be foolish to part ways with him even if he is hurt at the moment.
That leads us back to White, who is not only the Bulls best current asset, but his trade value is at an all-time high. White has been critical to the Bulls this season, and no one will argue that. However, given the emergence of Dosunmu and the return of Ball and Lavine in the coming days, he becomes expendable.
Given his consistent performance this season, there are a lot of teams that would love to have his scoring punch either off the bench or in the starting lineup. He has made a name for himself this season, and now look for his name to start popping up on the trade side of things.