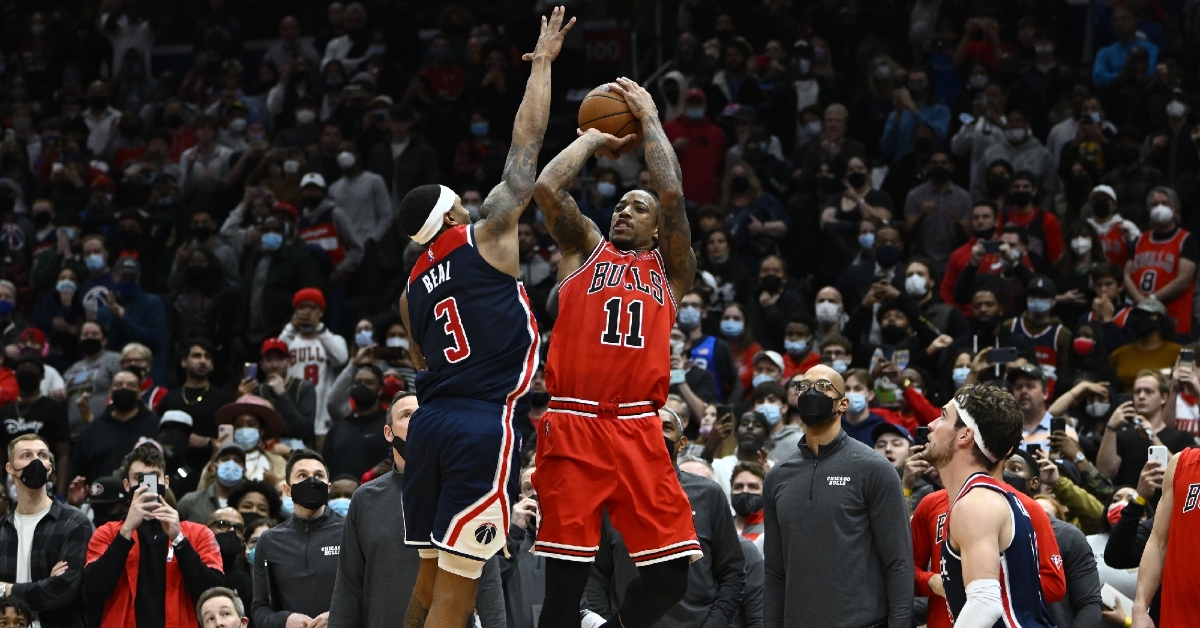 | | |
| --- | --- |
| DeRozan with back-to-back game-winners, Bulls win seventh straight | |
---
| | | |
| --- | --- | --- |
| Sunday, January 2, 2022, 9:46 AM | | |
WASHINGTON – Sometimes it is better to be lucky than good, and sometimes when you are good, you are good. Both of those things apply for the Chicago Bulls (24-10) as they continue to be one of the hottest teams in the league. Facing off with a Washington Wizards (18-18) that is in the playoff contention in their own right, it was DeMar DeRozan playing hero once again with his second straight buzzer-beating three to give the Bulls a 120-119 win.
Before we get to that shot, Zach LaVine was a man on a mission on Saturday, dropping a game-high 35 points in 38 minutes. Fifteen of those came in the first quarter and 20 in the first half as he came out firing. For DeRozan, it was more of the same despite a second straight game shooting under 50%. His 28 points were a par for the course, but his ability to make shots in the clutch can't go unnoticed as that three was huge.
While those two will garner the most attention, the Bulls had three starters tally 20 points in the game, making any team tough to beat. Nikola Vucevic had a very quiet 22 point, 12 rebound double-double and has now gone on quite a streak in terms of double-double performances. The suddenly hot Coby White is also giving the Bulls an excellent lift with his second straight 20 point effort.
White is getting more comfortable with more playing time and is gaining tons of confidence.
When you add Derrick Jones Jr and his nine points and just six points from the bench, the Bulls starters needed to come to play as they combined for 114 of the teams 120 points. That is not a long-term recipe for success, but they have been able to get away with that latterly. Chicago would need the production from their starters as the Wizards gave them a great game from start to finish.
At one point in the first half, Washington built a 10 point lead as Kyle Kuzma was on fire. Not only did he lead his team with 29 points and 12 rebounds, but that marked his 12th double-double of the season, and he is now just five shy of a new career-high. The Wizards also had an incredible effort from Bradley Beal, who continues to play well on a .500 team. Beal backed Kuzma with 27 points, but added a career-high 17 assists for a double-double of his own as those two made the Wizards offense tick.
While that duo did the most damage, the Wizards had plenty of contributions throughout their roster, including former Bull Daniel Gafford. Traded at the deadline last year, Gafford has found a home with Washington and put down 19 points and eight rebounds against his former club. Kentavious Caldwell-Pope and Cole Kispert chipped in with 13 and 10 points, respectively, as their starting five had double-digit outputs.
After trailing virtually all game, LaVine knocked down a fourth-quarter three to put the Bulls in front by one. Washington not only battled back to retake the lead, but took a two-point lead with 3.3 seconds left as Kuzma connected from way downtown to put the team on top. However, 3.3 seconds was too much time as DeRozan not only got the ball in crunch time again, but delivered with a game-winning corner three at the horn to lift the Bulls 120-119.
DeRozan is on another level right now
Seeing DeRozan's name in the MVP conversation may come as a surprise to some, but if you watch the NBA, it isn't a surprise. DeRozan has been balling this season, playing at an unreal level while putting up the best numbers of his career. He has done all that playing alongside LaVine and a team with the best record in the Eastern Conference despite being at full-strength all season.
To be considered in the MVP conversation, you not only have to produce, but you need to come up clutch. DeRozan has been producing all season, but now he is coming up clutch in ways he never thought possible. DeRozan already led the league in points per game in the fourth quarter, so I guess you can say that is clutch.
However, he has taken clutch a whole new meaning the last two games and has proven that he deserves to be talked about in the MVP conversation. Not only did he sink a one-legged three at the buzzer to hand the Bulls a win on Friday, but he was back at it again on Saturday, connecting from the corner for a game-winning three at the horn on Saturday. That makes two buzzer-beaters in as many games as DeRozan is the man in Chicago right now.
DeMar had everyone talking. pic.twitter.com/8WQogGGMEs

— Chicago Bulls (@chicagobulls) January 2, 2022
Coby White playing with confidence
Now in his third year in the league, the jury is still out on White and who he is as a player. The former first-round pick has shown flashes of being an elite scorer, but has been marred with inconsistencies. White has also seen his name come up in trade conversations across the past two seasons and will continue to see that as the second half of the season unfolds.
With Lonzo Ball in COVID protocols and Alex Caruso down with a foot injury, the Bulls needed someone not only to play PG, but to step up. White was the man they called on, and it is already proven to be a good decision. Sure, White isn't as gifted when it comes to passing and playing defense, but when he is on, his scoring is better than what Ball can bring.
Even with inconsistency continuing to plague him, White is playing with a ton of confidence right now, and you can see it in his game. He now has back-to-back 20 point games and has scored at least 16 points in four of his last five. He is getting more aggressive, making smarter decisions, and taking better shots. All that comes from confidence and consistent minutes, which he is getting now.
Coby White averages the last 5 games: 47.2% from 3, 17.2 PPG, 3.8 APG, 3.2 RPG. He's been phenomenal during this winning streak. His 3-pt shooting has been integral to the run here. Great job. pic.twitter.com/Sx9aq6zFVY

— See Red Fred (@cbefred) January 2, 2022
Starting the New Year off right
The Bulls not only closed out 2021 on a high note, but have now begun 2022, picking up where they left off. Riding a six-game winning streak into Saturday, the Bulls were the hottest team in the Eastern Conference and the hottest team in the league. Despite things not looking good for three-plus quarters, the Bulls found a way to battle and once again came away with another late-game win, pushing their streak to seven.
Keep in mind five of these wins are with Chris Fleming as head coach as he is now 5-0 since stepping in for Billy Donovan, who is still in the COVID protocols. The Bulls are not only good, but they have risen to the top seed in the Eastern Conference by virtue of beating the Nets twice. This team is playing terrific team ball and are doing things not seen since the Derrick Rose years.
Many people think the Bulls are legitimate favorites to reach the Conference Finals, but some are putting them into the title conversation at this point. You have the LaVine and DeRozan connection which reminds them of MJ and Pippen while getting contributions from everyone else. This is an incredibly gifted team that doesn't know how good they can be.
24-10. pic.twitter.com/IZHC3ufOGf

— Chicago Bulls (@chicagobulls) January 2, 2022