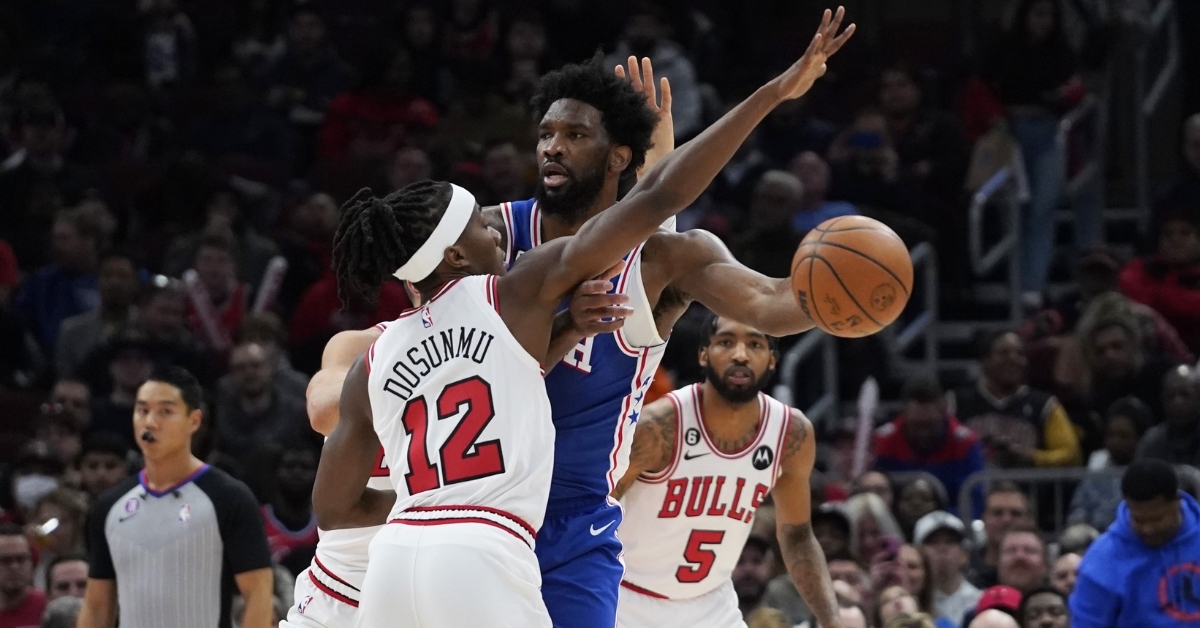 | | |
| --- | --- |
| Embiid and Co. get their revenge on Bulls | |
---
| | | |
| --- | --- | --- |
| Thursday, March 23, 2023, 7:50 AM | | |
CHICAGO - No one will take away what the Chicago Bulls (34-38) did on Monday as they managed to take down Joel Embiid for the first time in his NBA career. Granted, it took double OT to get it done, but nonetheless, it was a massive win for this team, and a huge weight lifted off of their shoulders.
Looking to make it two-straight against the Philadelphia Sixers (49-23), Embiid and Company took that loss personally and treated Wednesday as a revenge game. If that was their mindset going in, then mission accomplished, as this game was over nearly as quickly as it started, with the Sixers clobbering the Bulls 116-91.
The tone was set immediately in the first quarter when the Sixers raced out to a 13-point lead and then held a nearly 30-point advantage at the break. The Bulls defense did them little to no help as Philadelphia scored 76 points in the first half compared to just 48 by the Bulls. One of the few positives to take away was how the Bulls came out to start the second half, as they played with much more energy than most expected. Either way, it was not going to be enough to win this game, as the Sixers came out on a mission.
When only one of your five starters scores in double figures with Patrick Beverley being held scoreless, it makes for a long evening as the Bulls bench had to pick up the slack. Coby White did a great job of doing that as he led Chicago with 19 points. That was more than half of what the starting lineup delivered, as it was one of the worst showings the Bulls have had in quite some time.
Zach Lavine was the only one who came to play in the starting lineup, and even he had a rough go of things to finish with 16 points. To make matters worse, Demar Derozan was held to four points, all coming from the free throw line, before leaving the game with a quad injury. The Bulls hope he doesn't miss a ton of time, as they will need him in the final 10 games to hold onto the final playoff spot.
Getting back to the bench, although having them lead the way was not ideal, it was nice to see them get involved as Ayo Dosunmu added 14 points. You also had Andre Drummond deliver his best game in over a month, as he finished with 13 points and 12 rebounds, seven of which came in the opening quarter. Derrick Jones Jr rounded out the double-figure scorers for Chicago as he added 10 points from the second unit.
Along with Beverley and Derozan struggling, both Patrick Williams and Nikola Vucevic struggled and combined for 15 points and 10 rebounds. Throw in the Alex Caruso late-minute scratch, and it was an overall night to forget if you are a Bulls fan.
Despite the losing effort on Monday, Embiid had his way with Chicago, but go figure, he does next to nothing on Wednesday, and they still win. Embiid finished with 12 points in the win, but the Sixers didn't need him as much as they typically do. That is because a trio of players scored 20 points, including Deandre Melton, who led all scorers with 25 points. Known as Shake in the NBA ranks, Melton was hot from distance once again and connected on four triples to get his night started.
You had Tyrese Maxey continuing to play at an elite level along with Melton as he added 21 points. Throw in the 20-point, nine-rebound effort from Tobias Harris, and Philadelphia was on cruise control most of the night. Perhaps the most impressive thing about this win is they did it without James Harden or a typical Embiid game.
Credit the Bulls defense for taking some of the things away from Embiid, but Harden didn't even play in this game which was a golden opportunity for the Bulls to steal another win. Instead, they looked lost on the floor and played a lifeless game as they can't seem to play well long enough.
Chicago may be four games under .500, but their recent surge has put them 1.5 games in front of the final playoff spot with 10 games to go as they remain in great shape. Chicago will head out West for a two-city three-game trip, with Portland opening things off on Friday.