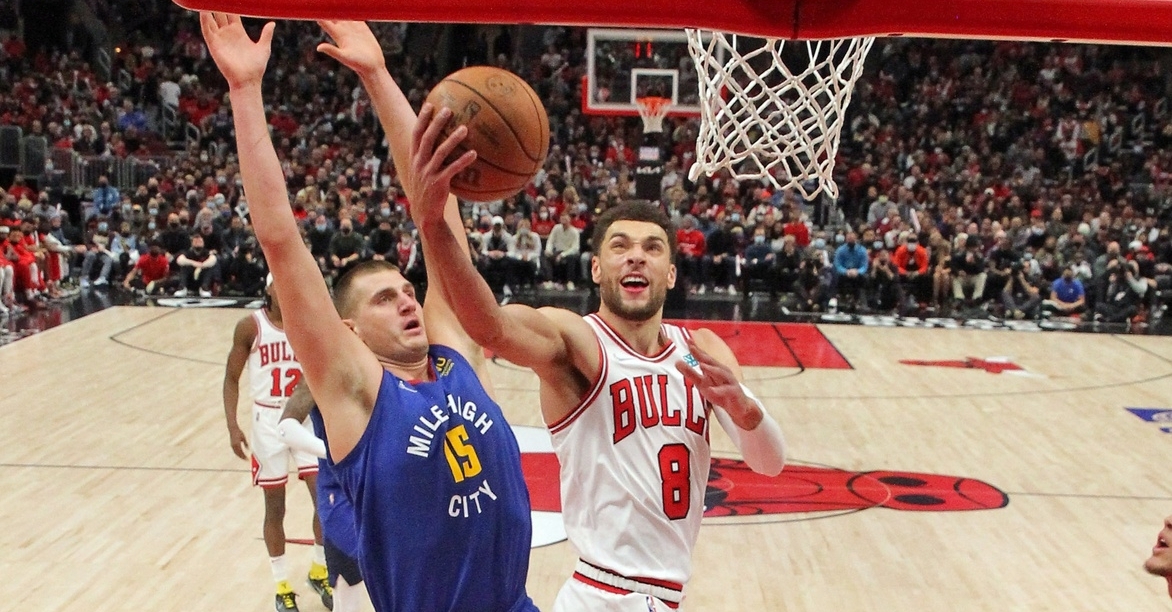 | | |
| --- | --- |
| Bulls News: LaVine drops 32 points in short-handed win over Nuggets | |
---
| | | |
| --- | --- | --- |
| Tuesday, December 7, 2021, 10:53 AM | | |
CHICAGO – This team is special. No matter what challenges or hurdles that are placed in front of this Chicago Bulls (17-8) team, they leap those hurdles and continue to impress. Last night was another one of those challenging hurdles as the Bulls welcomed in a Denver Nuggets (11-12) who is struggling, but more than capable of winning games.
After not having their defending MVP in Nikola Jokic during their first meeting, the Bulls knew they needed to shut him down if they wanted a chance in this one. In terms of points, Jokic scored 17, so credit the Bulls defense for making life difficult for him. However, it is not just the points that stand out for Jokic, but everything else he does as he added 12 rebounds and an incredible 15 assists for a triple-double. Bulls president Arturas Karnisovas has been all too familiar with those types of games as he was the GM in Denver for years and was the one who drafted Jokic in the second round.
To go with that triple-double performance, the Nuggets benefitted from five players scoring in double figures, with all of them coming from the starting lineup. Will Barton led the way with 19 points, but struggled to do much in the second half after a great first half. Aaron Gordon continued to have a tremendous bounce-back season chipping in with 18 points, while Monte Morris (18) and Jeff Green (14) rounded out the points for the starting five.
With that much production coming from the starters, you would think the Bulls would be in trouble. That was not the case as the Denver bench combined to score just 10 points and didn't do anything to help keep the Nuggets afloat. For the Bulls, they were met with their own challenges, and it wasn't for lack of scoring.
Already down Javonte Green and Coby White, who are in the NBA Health and Safety Protocols, Alex Caruso injured his hamstring against the Nets on Saturday and is expected to miss one week. It was then revealed that DeMar DeRozan would also be placed in the NBA Health and Safety protocols making the already shorthanded Bulls more shorthanded.
That meant that it was time for other players to step up, and that is exactly what happened with a trio of players delivering massive games. With DeRozan out, the primary scoring fell on the shoulders of Zach Lavine, who did what you would expect him to do. He finished with a game-high 32 points, with 12 of those points coming in the third quarter.
LaVine wasn't alone in having a big game as Nikola Vucevic, and Lonzo Ball added 20 point performances. Not only that, but each player posted a double-double bringing in 10 rebounds to back their 20 points. With Caruso out of the lineup, it was time for Derrick Jones Jr to make his first start of the season as the veteran role player has delivered off the bench this season. Not known as a scorer, AIRPLANE mode had a strong fill-in showing as he scored 12 points and was one rebound short of a double-double.
Needing to replace DeRozan, 2021 second-round pick Ayo Dosunmu made his first career NBA start and showed Chicago everything they needed to see. Not only did he score 11 points giving the Bulls five double-digit scores, but he added eight rebounds and six assists in what was a great showing. Not to mention he played a team-high 42 minutes as Chicago outscored the Nuggets 63-48 in the second half to pick up another great 109-97 win.
Time to see what this team is made of
All season long, we have been talking about the challenges this team will go through and how they will survive. So far, those challenges have been met head-on as this Bulls team continues to show they are for real. Even with COVID issues affecting nearly half the team this season, the wins continue to come as Billy Donovan and his group are coming together.
However, no challenges will be as difficult as the Bulls face now as they continue to lose players. Having Green and Whiteout with COVID protocols was hard enough, but now you add in Caruso, and your defense takes a hit. To make matters worse, DeRozan has been added to the Health and Safety list, and there is no indication of how many games he may miss.
Something it might just be one game while others feel it could be longer. Regardless, this Bulls team is down four players and five if you count the loss of Patrick Williams. With that being the case, guys like Alize Johnson, Matt Thomas, Tony Bradley Jr, and Troy Brown Jr will have to step up to see how good this Bulls team is with so many pieces gone.
Time for the role players to step up
Part of every great team is having your role players come through when needed. For the most part, the Bulls bench has been consistent, although they would like more production in terms of scoring. However, one thing that isn't listed in the box score is the second unit's job filling in for missing pieces.
When Vucevic was out, Bradley Jr gave the Bulls some much-needed minutes. With Green, White, Caruso, and now DeRozan out, guys like Dosunmu and Jones Jr are starting to see starter minutes as they need to patch the holes in the roster right now. Regardless of the results, the Bulls role players will have to step up for the next several games.
Last night was a classic case of role players stepping up as Jones Jr and Dosunmu played exceptional in the starting role. However, that was only one game, and the Bulls know they will be missing pieces for several more games. With that being the case, it will take a collective effort for this team to keep winning and everyone on the roster needs to get involved.
Most impressive win yet
There have been many remarkable wins this season, and you could argue that certain wins are better than others. However, last night's win against the Nuggets is the team's most impressive win yet, and it isn't even close. Take the record away from Denver, and you had the defending MVP dropping a triple-double on a team that was massively shorthanded.
Not to mention you had a Bulls team that lost their No. 2 scoring threat in DeRozan and had to start a pair of players who haven't started a game yet this season. Despite all that, Chicago still found a way to win this game, and it wasn't the offense that carried them. Yes, they did score 109 points, but allowing 97 points against the Nuggets is impressive.
The defensive effort from this team all season has been top-notch, and it is a big reason why the Bulls are where they are. Defense wins championships, and should this team continue to play the consistent defense they have, and it is a championship-contending worthy defense.