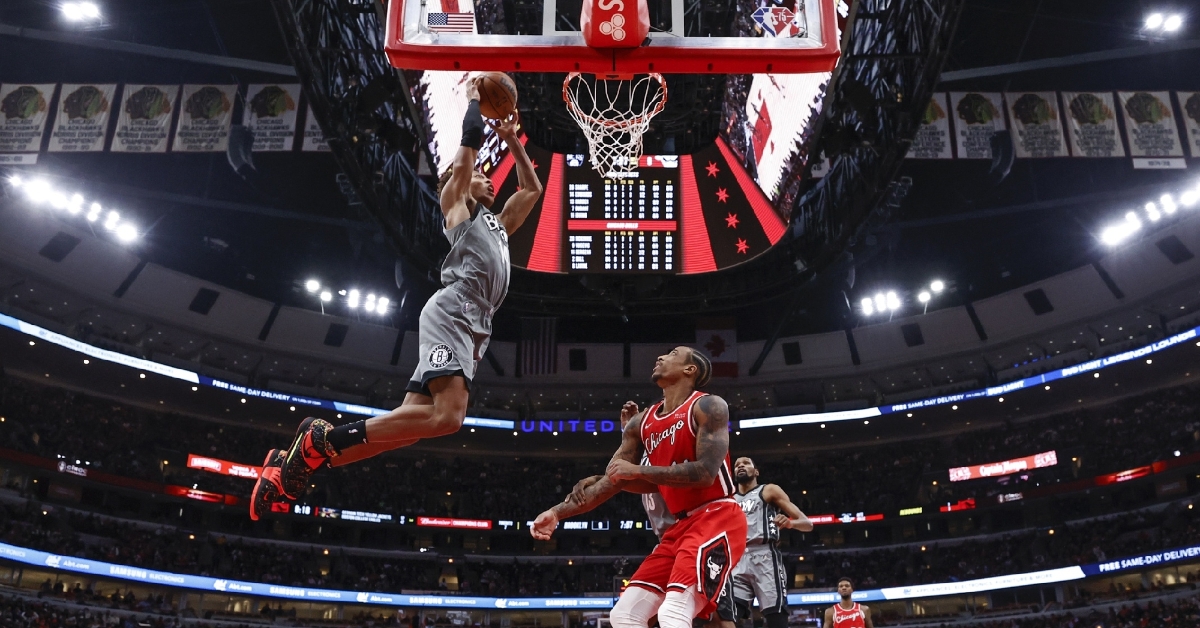 | | |
| --- | --- |
| Nets hammer Bulls to send mesage to Eastern conference | |
---
| | | |
| --- | --- | --- |
| Thursday, January 13, 2022, 12:28 PM | | |
CHICAGO – In a matchup between the two top teams in the Eastern Conference, the Chicago Bulls (27-12) hosted the Brooklyn Nets (26-14) for a huge primetime tilt. Holding a 2.5 game lead over the Nets entering the game and knocking them off the first two meetings, Chicago had a chance to separate themselves as they looked to continue their winning ways.
Unlike their first two meetings, Kyrie Irving was back in the Nets lineup playing just his third game of the season as he continues to deal with the COVID restrictions of an unvaccinated player. With 22 contests left away from home, Irving can play in 19 of those games, so Brooklyn will have to get used to playing with and without him at the same time.
Coming off a game the night before in which the Bulls nearly knocked the Pistons off by 50, you could see some early game fatigue setting in, which is why Brooklyn dropped 38 points in the first quarter. Credit the Bulls for hanging around most of the game as they trailed by seven after one and by as much as 10 at one point in the second quarter.
That was until Zach LaVine started to heat up, dropping 17 of his team-high 22 points in the second quarter and putting his team on his back at one point to pull Chicago within 62-60 after one half of play. The early portions of the third quarter were more of the same as DeMar DeRozan (19 points) and Nikola Vucevic (14 points) continued to do their part on the offensive end, helping the Bulls pull even 71-71.
From that point on, it was all Brooklyn as they took what was a tie game and flipped it into a one-sided beatdown. On the strength of a 28-8 run in the third quarter in which the Bulls couldn't buy a bucket, Brooklyn started to flex their muscles and looked like a team capable of winning it all. They continued that great play into the fourth, where they came away 138-112 winners to pull a game closer to Chicago in the standings.
Kevin Durant continues to do his thing on the court as he is one of the toughest if not the toughest player to defend in the league. His mix of ball handling, passing, and overall shooting skill is something that continues to amaze everyone as he dropped a game-high 27 points in the win. Durant wasn't alone in having a big game as James Harden knocked down five triples as part of his 25 point night and is averaging better than 27 PPG over his last 10 contests.
Rookie Dayron Sharpe had a very impressive 20 point night from the floor and shot 10-14 from the field for an extremely efficient night. As if having three players in the starting lineup wasn't hard enough to defend, why not make it four as Patty Mills went off for 21 points off the bench, including 6-8 from deep. Keep in mind that Irving had just nine points as the Nets showed how good they can be when their big three play.
Statement win for the Nets
Everyone knew Brooklyn would be one of the best teams in the East this season. However, after not having Irving for most of this season, many people started to wonder what this team would look like with him and if they are better off without him. Even without him in the starting lineup, the Nets have managed to go about their business and are currently second place in the Eastern Conference.
Had they not lost their first two meetings against Chicago, they would be in first, but that is another topic for another day. With Irving coming back and being allowed to play in select cities, you are starting to get a chance to see how good this team can be, and they showed it last night. With the game tied 71-71, the Nets used a 28-8 run to blow things open and never looked back.
That is impressive enough against anyone, but to do it against a team in the Bulls who leads the Eastern Conference, that run is more impressive. This was a huge statement win for the Nets. Standings or not, this is a win that the Eastern Conference will take note of, and the Nets still might be the favorites to come out of the East regardless of seed.
50-40-90
Certain stat lines don't happen too often in the NBA, and the 50-40-90 line is one of those feats. For those unfamiliar with what that is, it would be a player shooting 50% from the field, 40% from deep, and 90% from the free-throw line. Stephen Curry, Harden, Durant, and Klay Thompson are some of the players to accomplish that feat, but the Bulls have a player who may land in that category this season.
LaVine continues to play at an all-star level this year and has a legitimate shot at reaching that feat. After going a perfect 4-4 from the free-throw line last night, LaVine has now made 39 consecutive free throw attempts and is shooting 88.7% from the line. His 8-13 performance from the field keeps him over the 50% plateau, while his 2-4 line from deep keeps him above 40% on the season.
He has continued to get better every season and is now showing that he is not only one of the better players in this league, but one of the better shooters. With his contract expiring at the end of the season, you can bet the front office is going to do what they need to do to keep him around and keep this team together for a few more seasons.
Derrick Jones and his injury
It is no secret that the Bulls have been battling their share of injuries this season, but when they seem to get healthy, they take a step back. Jones Jr is the latest to fall into that category playing just one-minute last night before leaving with a knee injury. Not only did he not return, but we still don't know how serious things are at this point.
Once Jones Jr. left the game, the Bulls had to mix and match using Alonzo McKinnie, Troy Brown Jr, and Coby White, among others, to fill his spot in the lineup. Outside of White, the Bulls didn't get a ton of production and, even worse, got into foul trouble with several guys. With Alex Caruso, Tyler Cook, Javonte Green, and Patrick Williams still injured, losing Jones for any period of time is not ideal.
However, this is just another challenge that the Bulls will take head-on as they look to continue their quest towards the best record in the East. This team has passed every significant test this season, and this is just another test they need to pass while they wait for more bodies to return.