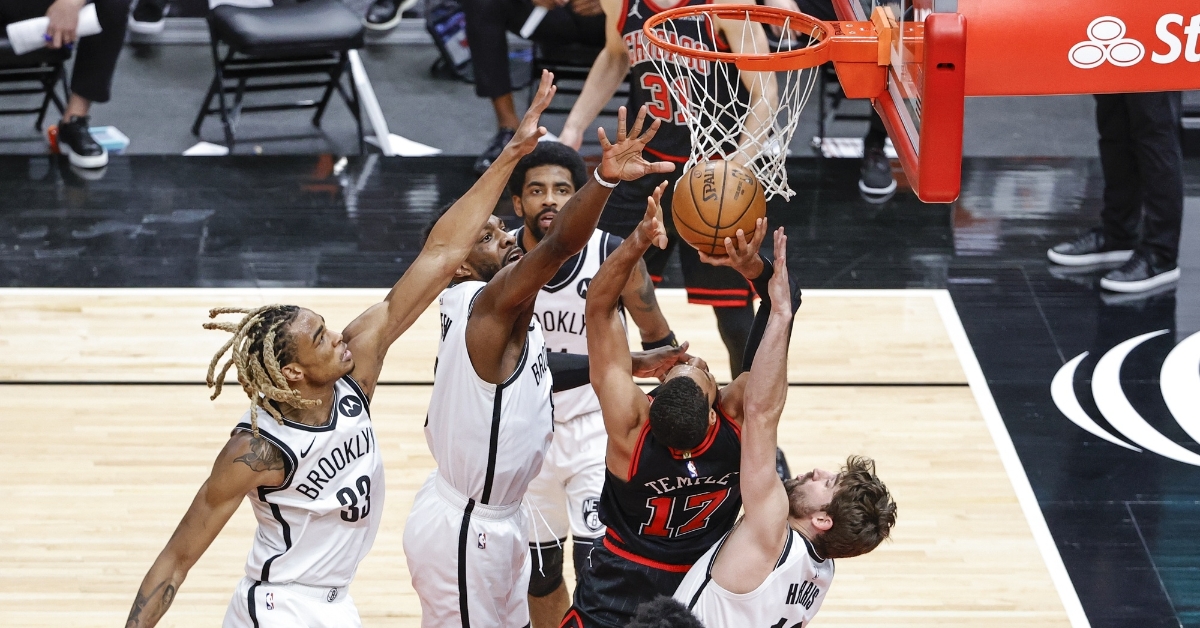 | | |
| --- | --- |
| Takeaways from Bulls loss to Nets | |
---
| | | |
| --- | --- | --- |
| Wednesday, May 12, 2021, 10:58 AM | | |
Seemingly facing playoff elimination with each loss, the Bulls entered Tuesday night, riding a three-game winning streak and playing great ball. The problem is the final four games for Chicago will not be easy as they will see two of the top teams in the Eastern Conference in three of those meetings.
Two of those three games will come against Brooklyn, who made the trip to Chicago last night. The Bulls have played Brooklyn tough this season, but the Nets haven't been at full strength in their meetings with this team. That was once again the case last night as SG James Harden was still out with a hamstring injury as he is hoping to be back for the postseason.
That left the door open for Chicago to possibly steal a game from the Nets and capitalize on the chance they had in front of them. Zach LaVine did his best to give the Bulls a chance to dropping a game-high 41 points for his 10th 40-point game of the season. However, he was the lone Bull to score 20 points as Coby White, and his 16 were second on the team.
Even with that tremendous effort from LaVine, it still wasn't enough as Kevin Durant and his team-high 21 points led a balanced attack that saw all five starters in double figures and nine total players record double-figure points. Blake Griffin, Joe Harris, Jeff Green, and Kyrie Irving were just a few of those names who scored at least 10. Of course, when nine players score 10 points each, any team will be hard to beat, as the Nets held off the Bulls 115-107.
Magic Number 1
Typically, when you talk about a magic number, it is the number of games a team needs to win to clinch a postseason berth. For the Bulls, their magic number is one as one more loss eliminates them from playoff contention this season.
With just three games left on their schedule, the Bulls trail the Washington Wizards by three games for the final play in spot in the tournament. That means the Bulls must win out and hope for the Wizards to lose out if they want in. Any other combination eliminates the Bulls, including a loss by them or a win by Washington.
With Washington playing Atlanta tonight and the Bulls set to see Toronto next, there is some hope that Chicago stays alive a little bit longer, but that may be it. If Chicago wants to make the postseason or keep the pressure on, now would be the time for them to play their best games of the season as it is do-or-die time for them at this point.
Comeback falls short.

Zach finishes with 41 points. pic.twitter.com/fLXP29hoIt

— Chicago Bulls (@chicagobulls) May 12, 2021
Zach LaVine is back to his old self
When LaVine entered the health and safety protocols, there was no timetable as to when he would return. Even when fans found out when he would be back, there was no indication as to how many minutes he would play and if there would be any rust from not seeing game action in almost three weeks.
In his first game back, you could see a lot of rust as his shots simply were not falling. Since then, however, there is not an ounce of rust on him, and after dropping 41 last night, LaVine is back and ready to go. Ultimately, this team will always go as far as he takes them, but seeing others step up in his absence has been nice.
Now the most significant challenge this organization will have is to figure out a way to play the way they do without him and figure out how he can continue to score without taking the offense out of rhythm too much. With the Bulls still fighting for that final playoff spot, LaVine will go out there and deliver everything he has for this team.
However, once they do get eliminated, if that happens, is it wise to continue playing him those final two games of the season? Again, that is something the front office will discuss as this is the first time in years where we haven't talked about tanking at this point in the season.
Zach leading the charge back…@NBCSChicago | @ZachLaVine pic.twitter.com/KjHiC2sTLl

— Chicago Bulls (@chicagobulls) May 12, 2021
With just three games left in the regular season, it is time to give other players their opportunities down the stretch. Markkanen is one of those players, as his numbers have significantly declined since March. A big reason for that was the acquisition of Nikola Vucevic as he took Markkanen's spot in the starting lineup and sent him to the bench.
At times, Markkanen showed he was a valuable piece off the bench, but for the most part, he has been a shell of himself, and his numbers show. Unfortunately, Chicago failed to reach an extension with him this season, making him a free agent this upcoming offseason. He will undoubtedly have several suitors, but I still love his game and would love to see him remain in Chicago for a few more years.
With Daniel Theis an upcoming free agent and Thaddeus Young's future still up in the air, the Bulls may be looking at adding a PF to the mix before next year. Markkanen, I still think, is a great option to have, even if his game is similar to Vucevic. For him to prove his case, he needs as much time as possible on the floor, so why not get him as many minutes as possible over the next week to let him showcase his skills.
Strong finish by Lauri ??@NBCSChicago | @MarkkanenLauri pic.twitter.com/oVrI8Dx4TW

— Chicago Bulls (@chicagobulls) May 12, 2021