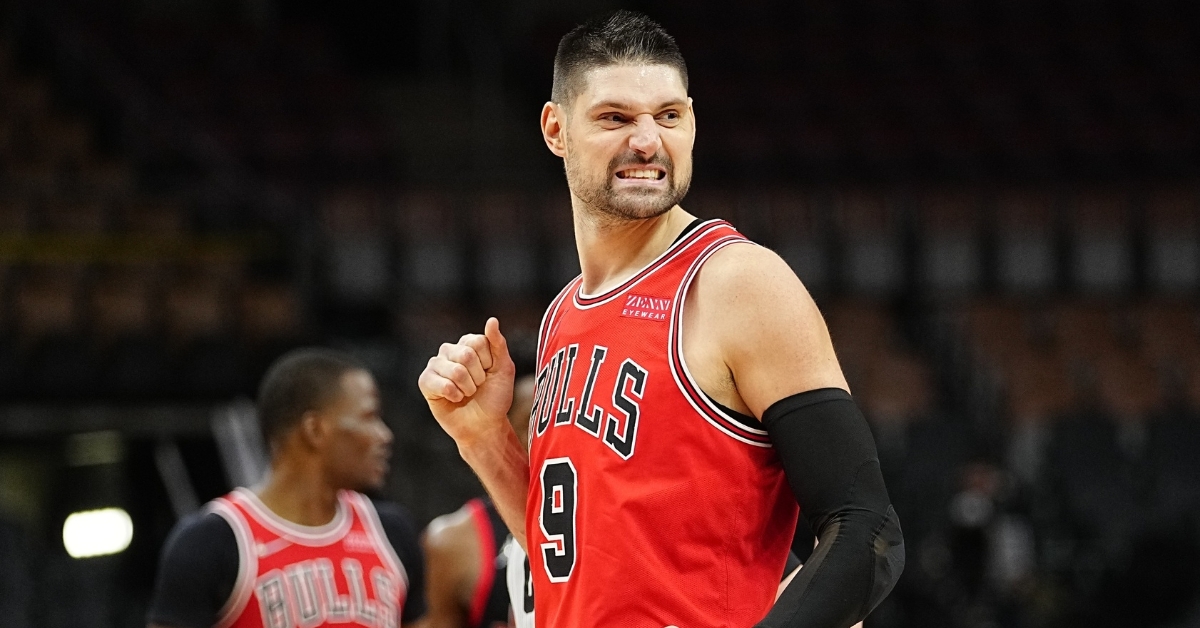 | | |
| --- | --- |
| Bulls News: Vucevic drops 30 points in overtime loss to Raptors | |
---
| | | |
| --- | --- | --- |
| Friday, February 4, 2022, 12:26 PM | | |
TORONTO – Remember when the Chicago Bulls (32-19) dealt with COVID, and virtually everyone on the roster missed significant time? Yeah, those days were not fun, but they are long in the rearview mirror as the Bulls have been able to continue their season. Chicago had to have three games rescheduled during that time, with two of them coming against the Toronto Raptors (27-23).
These teams made up the first of their postponed games less than a week ago, where the Bulls had to scratch and claw for a six-point win. Looking to at worst clinch the season series on Thursday, the Bulls made up their second contest with Toronto as they traveled north of the Border for the final time this season.
Much like their first two meetings that went down to the wire, this game was no different as the Raptors held a six-point advantage through three quarters. Ironically, Toronto outscored the Bulls in each of those quarters by two points, which helped them build their lead. Once the fourth quarter got underway, the Bulls started to get in their groove, and that was a good thing as they responded by outscoring Toronto by six and sending the game into Overtime.
Just like in regulation, the OT period was a tightly contested period with the Raptors clinging to a two-point lead late. Following a pair of costly and rare Ayo Dosunmu turnovers, it was the Gary Trent triple that proved to be the dagger as Toronto was able to beat the Bulls for the first time this season 127-120 in OT.
As the season has unfolded, Nikola Vucevic has started to get back to the player he was with Orlando. Despite enduring one of his worst shooting seasons in terms of percentages, Vucevic has continued to battle and capped off one of his best nights of the season by dropping a game-high 30 points and adding 18 rebounds to go with it. Those are the double-double games he is capable of, but they have been at that level much this season.
With Vucevic came the usual 28 point night from DeMar DeRozan, but it was an unconventional 28 points. DeRozan wasn't on top of his shooting game as he went just 7-17 from the field. He made up for that at the free-throw line, sinking all 14 attempts. Take away those two, and the Bulls didn't have another 20-point scorer, but did see four others land in double figures.
Coby White was huge off the bench with 16 points as he finished third on the team. Despite a very efficient night shooting the ball, Zach Lavine was held in check with just 15 points, while Javonte Green (13) and Dosunmu (11) rounded out another fantastic offensive night for this team.
Speaking of having a great night, Pascal Siakam got back to playing his style of basketball as he finished with a team-high 25 points to go with 13 rebounds. Scottie Barnes, Fred VanVleet, and OG Anunoby all had 21 points in the game as the Raptors had plenty of offensive firepower to match the Bulls.
Trent Jr. and Chris Boucher added 16 points each as they needed every bit of those points to hold off the Bulls down the stretch.
Trade deadline fun
We have been talking about this for quite a while, but look for the Bulls to add one or two pieces come the deadline. What those pieces are and who they need to give away remains to be seen, but something will happen over the next six days.
With guys like Lonzo Ball, Alex Caruso, Derrick Jones Jr, and Patrick Williams all out hurt, some of their valuable trade assets are no longer assets. White was a prime asset and still could be, but with both Jones and Caruso out, he will likely remain in Chicago. Williams continues to be the most intriguing piece even if he is the one they shouldn't move.
Chicago has said they would only move him if it meant acquiring a piece that could bring them a title. I agree with that statement, but what do they consider a championship-caliber piece. Either way, all these players should be back at some point in March, and that is something the Bulls are also considering before making any changes.
Vucevic is coming up huge
It has taken more than half of the NBA season, but these are the games the Bulls have been waiting on from Vucevic. If you remember, when they traded for him last season, he was a constant 22 point 13 rebound guy that gave Lavine a secondary scoring option. The problem was the team lacked anything else after that and lost the first nine games after they acquired Vucevic.
This season has been drastically different as Vucevic has been willing to sacrifice some of his scoring numbers to help this team win more games. Once the second option on this team, Vucevic is now the third option and sometimes fourth or fifth.
That doesn't bother him because the team is playing better, and he continues to show that he can still put up massive games when needed. Chicago will have to give him some help sooner or later, but look for him to continue rolling out of bed with a double-double nearly every night.
Finish the first half strong
Not only is the trade deadline less than a week away, but the NBA all-star break is rapidly approaching. We have already passed the halfway point from a game side of things, but the all-star game signals the end of the first half.
Chicago has some challenging games over the next two weeks, but they have still put themselves in a great position to where they should be a top-three team in the East. Their goal now is to remain healthy and finish off their first half strong to get through the All-Star break and begin their playoff push.